Vital Pet Info At Hand Should You Need It.
While supplies last!
DONATE $20 or more to Generation Wags and we'll send
you your OWN Pawfolio to go!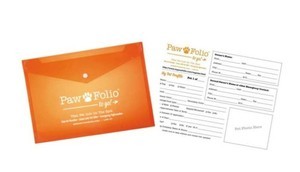 Our Pawfolio To Go is our solution to help you have your pet's vital info close at hand.
Includes orange folder and pet profile form to ensure you have your pet's info to carry with you on vacation or leave with your pet sitter when you go on travel.