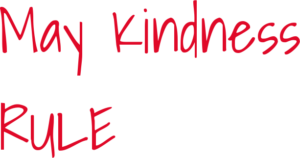 Generation Wags is working to provide ways for animal advocates to create positive change for animals through awareness and resources to take action.  Our Change Laws page provides links to national organizations as well as ones on the State level.   Consider joining and supporting these organizations.  Your voice is needed.
We hope to highlight some recent local progress here.
Our first report is from Maryland Votes for Animals!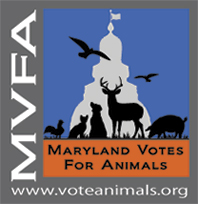 Maryland Votes for Animals
shares accomplishments made in 2016!
A Terrific Session for Animals in Maryland!!
Here are the bills that passed in 2016 and will be making their way onto Governor Hogan's desk:
-Dog Fighting Implements SB 283 – Closes a loophole in Maryland's dog fighting statute by making possession of these implements with intent to engage in dog fighting a crime in Maryland.
-Puppy Mills HB 1113- Places restrictions on the sources of puppies to pet stores from puppy mills that have violations under the Federal Animal Welfare Act or are unlicensed and bans the sales of cats and dogs at roadside sales and flea markets.
-Animal Shelters Standards Act of 2016 HB 494 – Requires written veterinary
protocols by Maryland shelters and disclosure of their procedures regarding
admission, disposition, and redemption of animals
-Pollinator Protection Act of 2016 HB 211-Imposes a partial ban on consumer use of neonicotinoids, pesticides which have been shown to be harmful to honeybees, with exceptions for certain groups who have been trained to use the pesticides such as farmers and veterinarians.
-Dispensing Compound Preparations for Use by Companion Animals SB 614- Allows a veterinarians to dispense a non-sterile medication for a companion animal when a compounding pharmacy and/or medications are unavailable.
-Poaching Restitution Act of 2016- SB 266/HB 410- Requires individuals convicted of poaching deer on private land to pay the State of Maryland restitution.
-Microchip Scans of Stray Cats and Dogs HB 46- Requires that animal control
facilities scan incoming stray animals for a microchip and make reasonable efforts to
notify the owners if a chip is found.
Thank you for helping to make Maryland a more compassionate state for animals!
---
Maryland's Spay and Neuter Grants Program
 This program is designed to reduce the number of unwanted cats and dogs euthanized in shelters across the state. We hope to reduce these numbers by providing competitive grants to local governments and animal welfare organizations that in turn promote and provide free spay and neuter services to pets of low income Marylanders and to colonies of feral cats.
The Maryland Department of Agriculture's Statewide Spay and Neuter Program has funded  projects that have so far completed 12,088 procedures since the program began in 2014.  
Read more
!
The FY17 cycle will fund 26 new projects.  These projects cover 17 counties and consist of 15 that target pets of low income Marylanders, 10 that target colonies of feral cats and 1 to provide funds to purchase equipment for a new no cost/low cost spay/neuter clinic.
---
Missouri Alliance for Animal Legislation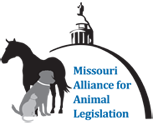 Success related to companion animals:
"We have great news to report to you as the 2016 legislative session comes to a conclusion.  The Alliance prevailed in its fight against the onslaught of legislation that would have weakened our existing anti-cruelty laws and undermined the welfare of animals in the state.  Fortunately, the animals triumphed over agricultural interests, the puppy mill industry, corporate factory farms, and other animal industries that exploit animals solely for monetary gain.  "
Appallingly, many state legislators were relentless in their efforts to dismantle Missouri's laws protecting the welfare of animals during this year's session.  Unfortunately, several legislators are still bitter over the passage of the Canine Cruelty Prevention Act which has closed down 1,200 cruel puppy mills in the state.  One legislator publicly criticized his colleagues on the Floor of the House arguing that their actions were being done for spite due to the success of the new puppy mill law."
Bob Baker
Executive Director
2016 End of Session Report
Thanks to your efforts and support,
the Alliance was instrumental in defeating these and other bills.
DEFEATED
HB 1969 & SB 804
Eliminates Disposition Hearings for Abused & Neglected Animals
This legislation would have severely weakened Missouri's anti-cruelty statutes by eliminating disposition hearings for animals that have been abused and/or neglected.  This would have resulted in abused and neglected animals being left in the hands of their abusers.
DEFEATED
SB 928, SB 703 & language originally in HB 1414
Exempts Animals from Sunshine Law – Prohibits Disclosure on How Animals Are Treated
These bills would have eliminated the ability to monitor animal welfare issues at puppy mills and factory farms in the state.  This legislation was intended to keep the public in the dark about how animals are treated.
DEFEATED
HB 1823 & language contained in HB 1632, HB 1912, HB 2188, HB 2376,
SB 676,  SB 765, SB 781, SB 799, SB 800, SB 867, SB 869, SB 937
Weakens Protections for Farm Animals
All of these bills were aimed at eliminating or severely weakening regulations on factory farms.  These bill were intended to open up many more factory farms in the state and were initiatied and supported by multi-national agricultural corportations.
DEFEATED
SB 1024
Prohibits Municipalities from Banning the Sale of Puppy Mill Puppies in Pet Stores