Teach Your Children
lyrics from Crosby Stills & Nash song
"You, who are on the road must have a code that you can live by.
And so become yourself because the past is just a good bye.
Teach your children well, their father's hell did slowly go by,
And feed them on your dreams, the one they fix, the one you'll know by.
Don't you ever ask them why, if they told you, you would cry,
So just look at them and sigh and know they love you."
---
The Importance of Humane Education

What if we all had the passion and skills to solve the most pressing challenges of our time, and, through our daily choices, work, and acts of citizenship, made choices that do the most good and least harm for ourselves, other people, animals, and the earth?
Humane education is a lens, body of knowledge, and set of tools and strategies for teaching about human rights, animal protection, environmental stewardship, and cultural issues as interconnected and integral dimensions of a just, healthy society.
Humane education not only instills the desire and capacity to live with compassion, integrity, and wisdom, but also provides the knowledge and tools to put our values into action in meaningful, far-reaching ways so that we can find solutions that work for all.
Putting Humane Education To Work for Animal Welfare
The focus on teaching children humane education to benefit to animal welfare is a huge winner, as is society as a whole. Learn about some efforts below and contact us with others you know about and would like us to highlight. The connection between animal abuse and the escalation to human on human violence is referred to as "the link" and makes the need for humane education even more compelling, even for those who don't consider themselves animal advocates. This "link" points to the fact that animal abuse and other animal related issues are not just "pet issues" … they are society human issues which we must address and remedy.
---
The ReLove Education for Responsibility Project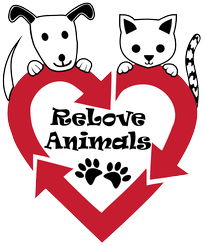 ReLove Animals Inc. believes that "Education for Responsibility" is the key to eradicating the problem of gross over population in the shelters, abuse and neglect. In our experience, a larger than appropriate amount of animals come from underserved areas that are in need of education for basic animal welfare issues and resources. Since 2012, the ReLove Education for Responsibility Project has been giving basic animal welfare presentations in select schools.

But it's not enough. We can't educate one class at a time and expect it to make a difference in our lifetime. We must educate every class at one time.
ReLove Animals is entering its' third year of this in-school program presented and taught by the teachers. It includes project partners giving the ability to have guest speakers from local rescues and shelters. The teacher leads an engaging conversation with slides, where the children will be answering the questions based on the pictures and slides they see. The children are challenged with projects like donation drives and getting involved in their own communities. It is interactive with videos, games and crafts that will be add-ons to the base lessons.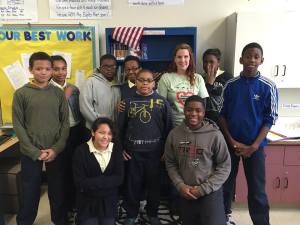 This project piloted first in 3 city schools and a few county schools starting in the fall of 2014 as an age appropriate, eight part comprehensive course taught once a month throughout the school year. An advisory board is being assembled consisting of school teachers, shelters directors and other local known advocates as well as ReLove Animals, Inc. project managers and directors.
In 2016, ReLove Animals and the MD SPCA collaborated to launch a "Beyond the Classroom" effort!
The MD SPCA has launched some of its own programs geared towards humane education including a summer reading program Pet Pals!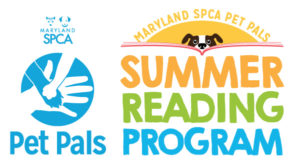 Katie Flory, director of community affairs at the Maryland SPCA shares that that this program "… will help reinforce to children that pets should be loved and treated kindly while they continue to strengthen their reading skills during summer vacation without being judged on their reading abilities. The pets enjoy the company, and it reduces stress in pets who may be anxious in a kennel environment."
GREAT WIN-WIN!
---

Paws Up For Pets is a campaign developed as a collaborative effort between Davey's Voice and C.A.R.E.4Paws.
Davey's Voice, a Santa Barbara County 501(c)3 nonprofit founded in 2015 by Gretchen Lieff to honor Davey, a five-month-old puppy who had to be euthanized after enduring ongoing torture by his owner. Davey's Voice was formed to speak out for future victims of abuse, and to educate the community so another animal does not have to suffer in silence as Davey did.
C.A.R.E.4Paws' works to reduce pet overpopulation, keep animals out of shelters, and improve quality of life for pets and pet owners in need. The nonprofit was founded in 2009 with the goal to alleviate the burden of Santa Barbara County's overcrowded shelters and change the future for animals in this community and beyond. Its founders, all longtime shelter volunteers, looked at the reasons why animals end up in shelters and designed programs to tackle these issues. Services include free spays/neuter for low-income pet owners, intervention programs that keep animals in their homes, and bilingual educational outreach to inspire compassion and responsibility for animals.
The United Boys & Girls Clubs of Santa Barbara County is a nonprofit organization that provides a safe, positive and enriching environment for youth between the ages of 5-18. It has four main Clubs, three satellite afterschool educational operations, a licenced daycare center, and a 55-acre residential camp, serving 2,676 youth in Santa Barbara County annually.
---

Recommended Children's Reading Books with Humane Themes
New!
Red Rover's E-book for Empathy
---
One Teacher's Passion for Pets Takes to the Classroom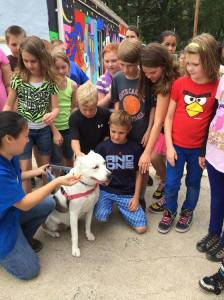 4th .Graders Writing Project Helps Homeless Dogs & Cats
Tiffani Murphy, a writing teacher at Ebb Valley Elementary in Manchester, MD is an animal lover. She decided to share her compassion for animals with her fourth graders and came up with a writing project! The result was amazing. Check out the smiles, flyers, and visit to the shelter that grew out of a not so traditional assignment.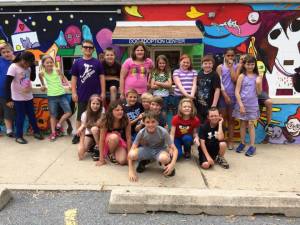 ---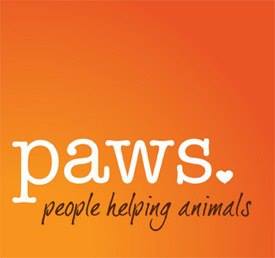 PAWS – Progressive Animal Welfare Society is located outside of Seattle, Washington. Simply put, PAWS describes itself as follows: "PAWS is people helping animals." A simple goal with a broad range of programs and dedicated staff and volunteers to fulfill the goal.
On their website, it indicates "Since 1967, PAWS has united more than 130,000 companion animals with loving families, cared for 115,000 injured and orphaned wild animals, and made the world a better place for countless others through advocacy and education."
Their efforts include classroom programs and a Teens Helping Animals workshop!
---
Animal Humane Society in Minnesota has a range of programs
related to humane education and also has a young professionals group!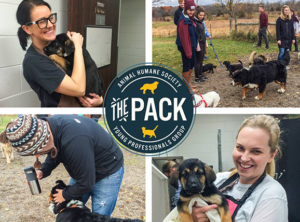 ---
Humane Education Begins At Home …
LOVE A PUP. HELP A PUP takes off!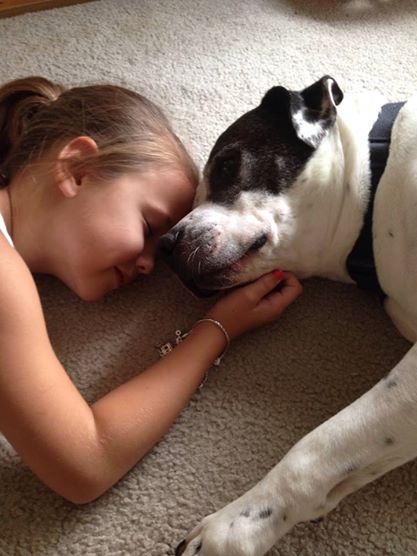 Natalie is on a mission to spread love and hope to rescue pups!
While still only 8 years old and being "taught", she clearly has learned love and compassion through her family who owns several rescue pups themselves. Her life lessons have led her to want to reach out and teach others the importance of loving and helping rescues!
---
LET US KNOW ABOUT OTHER PROGRAMS OR EFFORTS YOU THINK WE SHOULD HIGHLIGHT!