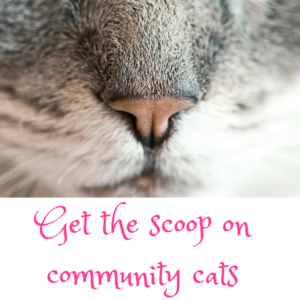 What ARE community cats, and what programs are needed to address their needs!
For info about caring for your OWN visit our Be Your Cat's Meow page created just for you.
---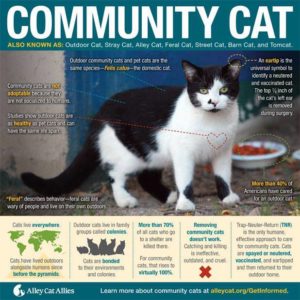 What IS a community cat?
On their website, Alley Cat Allies asks and explains "What is the difference between a stray cat and a feral cat?"
Stray cats are socialized to people and can be adopted into homes, but feral cats are not socialized to people and are happy living outdoors.
A stray cat:
Is a cat who has been socialized to people at some point in her life, but has left or lost her indoor home, as well as most human contact and dependence.
Can become feral as her contact with humans dwindles.
Can under the right circumstances become a pet cat once again. Stray cats that are re-introduced to a home after living outdoors may require a period of time to re-acclimate; they may be frightened and wary after spending time outside away from people.
A feral cat:
Is a cat who has either never had any contact with humans or her contact with humans has diminished over time. She is not socialized to people and survives on her own outdoors. Most feral cats are not likely to ever become lap cats or enjoy living indoors.
Can have kittens who can be socialized at an early age and adopted into homes.
Alley Cat Allies is committed to advocating for an end to the killing of cats, leading the movement for change, and protecting the lives of cats—and the people who care for them. Get informed about the issues impacting cats and what you can do to make a difference.
81 percent of American believe that leaving a stray cat outside to live out its life is more humane than having the cat caught and killed. (Source: Alley Cat Allies, "U.S. Public Opinion on Humane Treatment of Stray Cats".) The most humane way to manage feral cat populations is through trap-neuter-return (TNR) programs.
Check out the FAQ page of Alley Cat Allies for an overview about
community cats and action needed.
---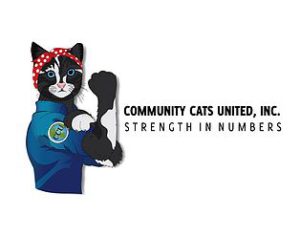 The mission of Community Cats United, Inc, is to engage members worldwide who dedicate themselves to the care taking of Community Cats and their efforts to promote Community Cat well-being. Our vision is to advance the status of community cats, uplift shelter medicine, encourage TNR, support our members in all areas of cat rescue and advocacy, and to reduce the number of community cats and ease the plight of unowned cats everywhere.
Trap-Neuter-Return is a critical approach to getting the huge community cat community under control.
Visit the Trap-Neuter-Return Community FB page for updates regarding such efforts.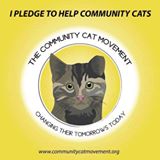 Also check out Rosie the Community Cat FB page to view Rosie's "chats" and learn about how to get engaged in helping the plight of community cats.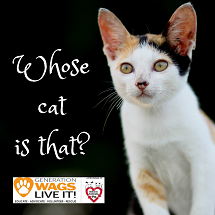 COLORING BOOK!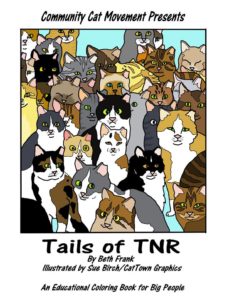 Click below to view and download sample pages from their Coloring-Book-Tails-of-TNR for Big People (kids will enjoy too!)   Click here to learn how to purchase the bound book.
---
Sample of groups working in communities:
Baltimore, MD
Community Cats MD is working to help effect change.  There is an estimated 185,000 stray and feral cats living on the streets of Baltimore City alone—that's one cat for every 3.4 human residents. Nationwide, the number is estimated to be 60 million, equal to the number of pet cats in the United States.
Most people don't even notice they're there—the shadowy, low-slung figures that melt into dark corners in alleys, duck under cars, or disappear down storm drains. These are the forgotten cats of Baltimore. The strays, abandoned pets, and feral cats who try to scratch out a living by foraging through trash cans and living in abandoned houses.
Frederick, MD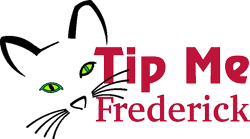 Tip Me Frederick is making tremendous strides to help feral cats with trap-neuter-return, medical funds, and barn cat programs.  Learn more about their resources and efforts!
Chicago, IL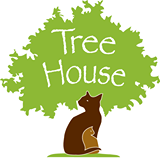 Tree House Humane Society has a Tree House Cats at Work program that "removes sterilized and vaccinated feral cats from life-threatening situations and relocates them to new territories where their presence will help control the rodent population."  Learn more about this "cageless", no kill humane organization specializing in the rescue and rehabilitation of sick and injured stray cats."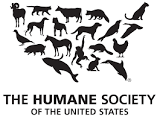 The Humane Society of the United States has a page devoted to community cat initiatives!  Click here to view.
---

Check out the Michigan State College of Law University Animal Legal & Historical Center for info related to this topic!