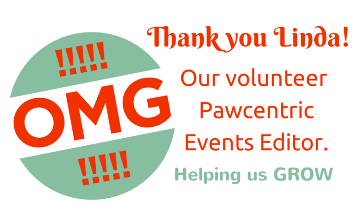 Post YOUR event here for free!
Here's a FB page that is not affiliated with us, but where you can also post events Events4Pets
---
Search by type of event or by State.  If you don't see any in your area, let your local groups know they can post here for free!
Check out State level advocacy training events held by the Humane Society of the United States!
Mon
Tue
Wed
Thu
Fri
Sat
Sun

Maryland SPCA – Pet Pal's Reading Program

5:00 pm

Maryland SPCA – Pet Pal's Reading Program

@ Maryland SPCA

Feb 6 @ 5:00 pm – 6:00 pm

The Maryland SPCA's Reading Program Humane Education initiative for kids ages 6-12 years old is back. The Reading Program will run on Tuesdays from 5 p.m. to 6 p.m. for the duration of the 2017/2018 school year. "Pet Pals is a program that

Read More

Working Through Pet Loss Support Group

7:00 pm

Working Through Pet Loss Support Group

@ The Anti-Cruelty Society

Feb 6 @ 7:00 pm – 8:30 pm

If you are having a difficult time in accepting your pet's death, you may want to discuss your feelings with someone trained to understand the grieving process, such as a grief counselor, clergyman, social worker, physician, or psychologist. For those

Read More

Lynchburg Humane Society – Second Saturday

5:00 pm

Lynchburg Humane Society – Second Saturday

@ Lynchburg Humane Society

Feb 10 @ 5:00 pm – 8:00 pm

Second Saturdays [ February 10 ] There will be no First Friday for January. However, beginning in February, we will be having Second Saturdays from 5-8pm. Our first one of the year is just in time for Valentine's Day, which means Speed Dating! You'll be able to register to

Read More

Monmouth County SPCA – Eat, Drink & Be Mine

11:00 am

Monmouth County SPCA – Eat, Drink & Be Mine

@ Navesink Country Club

Feb 11 @ 11:00 am – 2:00 pm

LOCATION :Navesink Country Club, Middletown DATE :February 11, 2018 TIME :11am – 2pm PRICE :$85pp Join us for our annual Valentine's Day Brunch on Sunday, February 11, 2018 at the beautiful Navesink Country Club in Middletown! There will be delicious

Read More

ADOPTION EVENT- Falls Church

12:00 pm

ADOPTION EVENT- Falls Church

@ PETSMART- FALLS CHURCH

Feb 11 @ 12:00 pm – 2:00 pm

6100 Arlington Boulevard, Falls Church, VA Come and Find Your New Forever Friend!

ADOPTION EVENT- Falls Church

12:00 pm

ADOPTION EVENT- Falls Church

@ PETSMART- FALLS CHURCH

Feb 11 @ 12:00 pm – 2:00 pm

6100 Arlington Boulevard, Falls Church, VA Come and Find Your New Forever Friend!

Maryland SPCA – Pet Pal's Reading Program

5:00 pm

Maryland SPCA – Pet Pal's Reading Program

@ Maryland SPCA

Feb 13 @ 5:00 pm – 6:00 pm

The Maryland SPCA's Reading Program Humane Education initiative for kids ages 6-12 years old is back. The Reading Program will run on Tuesdays from 5 p.m. to 6 p.m. for the duration of the 2017/2018 school year. "Pet Pals is a program that

Read More

Operation Paws For Homes – Charmed By Charity

12:00 pm

Operation Paws For Homes – Charmed By Charity

@ Alex & Ani

Feb 17 @ 12:00 pm – 3:00 pm

Shop. Support. Shine You're invited to a Charmed by Charity Event! Come sip refreshments, snack on small bites, and enjoy shopping with others who share your passion of giving back. 15% of all Sales will be donated to Operation

Read More

Humane Society of Charles County – 2018 Top Dog Dinner & Dance

7:00 pm

Humane Society of Charles County – 2018 Top Dog Dinner & Dance

@ The Greater Waldorf Jaycees

Feb 23 @ 7:00 pm – 11:00 pm

Click To Enlarge *Online purchase of a Top Dog Dinner & Dance entry ticket includes a $2.00 service fee.  Ticket Cost $55.00 in person, Online Cost $57.00 ($2.00 service fee)  The purchase of this item entitles the purchaser entry

Read More

New Hampshire SPCA – Doggie Paddle Plunge

11:00 am

New Hampshire SPCA – Doggie Paddle Plunge

@ New Castle Great Island Common

Feb 24 @ 11:00 am – 2:00 pm

Are you willing to freeze your tail off for the animals? Join us for the New Hampshire SPCA's 8th Annual Doggie Paddle Plunge.    Raise funds and dive into the frigid Atlantic Ocean in New Castle, NH to benefit the thousands

Read More

ADOPTION EVENT – PETCO GAMBRILLS

12:00 pm