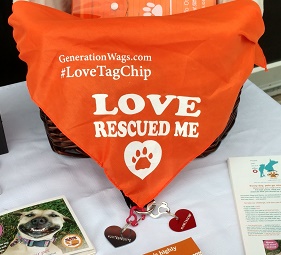 We were there!

Bark! Olney, MD location
May 2017, 10th Anniversary Celebration
We were excited to join our friends at Bark! Olney and partnered with Goshen Veterinary Clinic of Gaithersburg, MD which was represented by Karen White.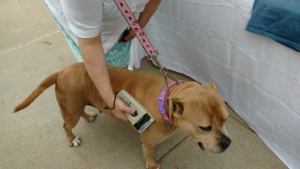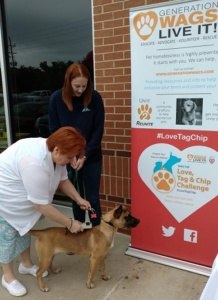 Pictured above, Karen of GVC scans two of the rescue group PetConnect's adoptables that were also at the event. All of PetConnect's rescues are microchipped prior to adoption.
During the event, we spoke with dog and cat owners about the importance of microchips (and all the steps to make sure they work as planned), along with visible tags. For cat owners we pointed out that fewer cats that make their way into a shelter as a stray will end up reunited with their owners!
---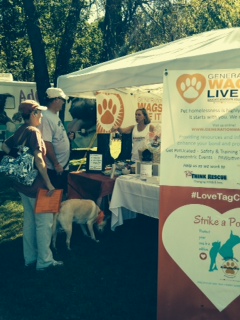 The Generation Wags/State Farm Pet Ownership & Safety Booth at Baltimore Humane Society's DogFest provided a range of information for pet owners to enhance their bond with their pets and keep them safe.
Center stage at the booth was information and outreach efforts to promote pet safety with the Generation Wags new #LoveTagChip Challenge", inviting pet owners to "strike a pose" with their pooch that were chipped and tagged! Newly chipped dogs donned their #LoveTagChip "Love Rescued Me" orange bandanas!
Visitors to the booth were encouraged to have dogs with microchips have them scanned in order to be sure the chip could be read, and then provided with the pet's chip # and contact info to be sure the chip is correctly registered and with updated contact info. The importance of having both a chip and visible tag was shared with attendees. For dogs not already microchipped, owners were able to get hem chipped at the event at the Baltimore Humane Society's Spay & Neuter Clinic, as well as have a tag made … both at very affordable prices!
Generation Wags focuses on Pet Ownership & Safety not only for their role in assisting pet owners to enhance the bond with and care for their pet, but also to hopefully reduce the flow of pets into shelters & rescues in a variety of ways including helping to reunite more lost pets with their owners (learn about HelPingLostPets.com) and reducing pet surrenders through pet training and other measures to keep them in their home.
State Farm Agent Cyndi Kuhn, known for her efforts in support of pets, was at the booth with important information about insurance options for pet owners at surprisingly affordable prices while adding peace of mind. State Farm's breed neutral policy for pets made them an important component for Generation Wags which is dedicated to equal treatment for all breeds or types of dogs. Also learn about State Farm's proactive efforts to educate people about preventing dog bites and how they recently teamed up with Victoria Stillwell to promote responsible pet owners and reduce the number of dog bites.
Information from the Center for Pet Safety regarding ground breaking crash tests for pet restraints for pets, as well as emergency preparedness info from Ready.gov were among the handouts at the booth.
Generation Wags also had their exclusive Paw Folio to go! on hand at the booth. This attractive and quickly recognizable pet envelope complete with a Pet Profile form for vital info on the spot. Generation Wags founder Debby Hartten created the Paw Folio after recognizing the need for immediate printed pet info to be at the ready should a pet go missing or in the case of an emergency when electronic info might not be available.
Join the free and map based HeLPingLostPets.com site, a member of Generation Wags PAWsitive Action Alliance and working to create an integrated site to reunite lost pets with their beloved pets.
To learn more about pet friendly insurance options from Cyndi Kuhn email her!
NOTE:
A huge thank you goes to Lost Dogs of Wisconsin and Illinois for valuable info related to lost pets and microchips!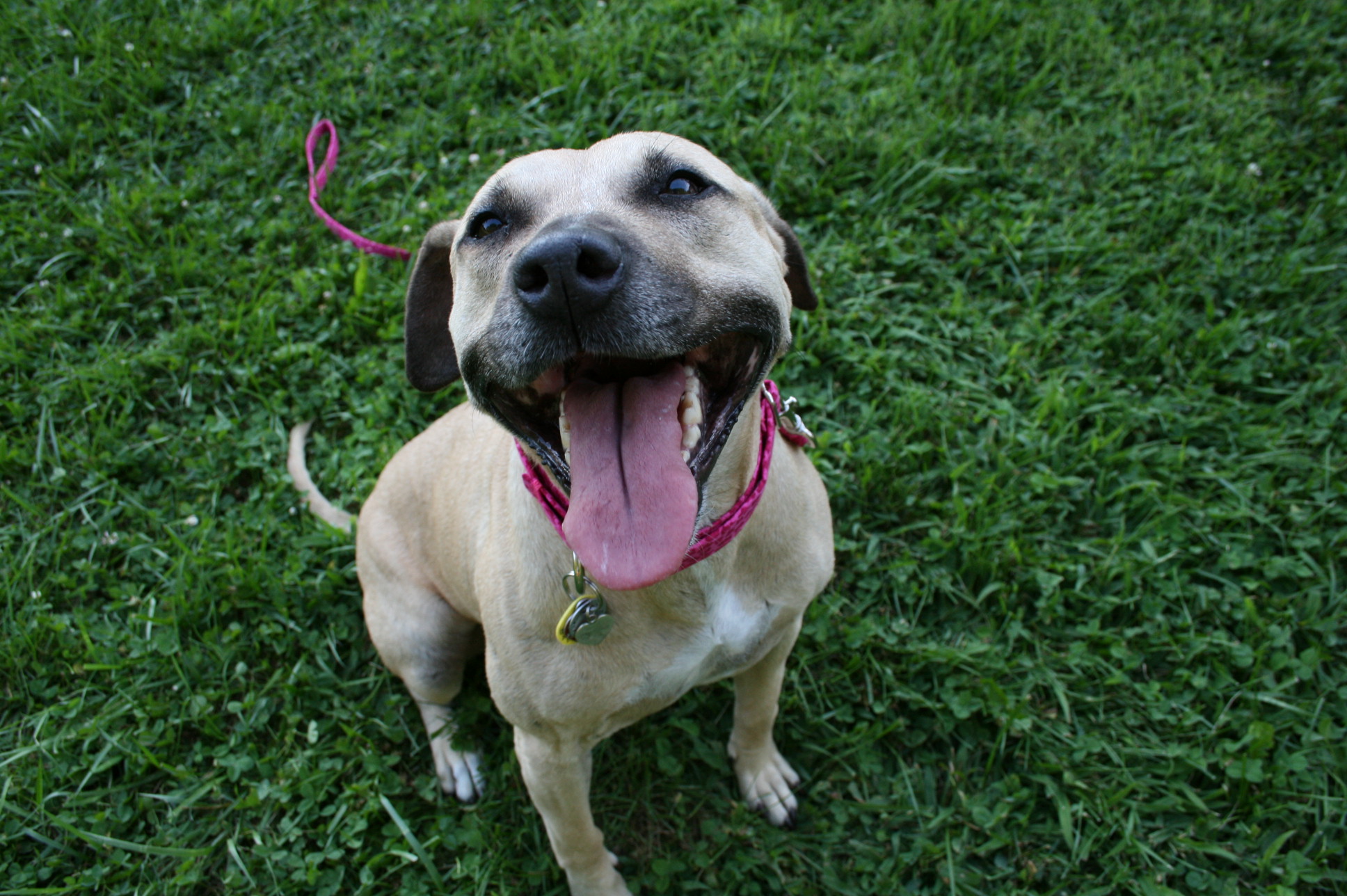 Meet Meme … Generation Wags' AmbassaDOG for Safety!Her life started off "ruff" as a victim of abuse and spent several years in animal control while her abuser awaited trial. She finally found freedom and her loving home thanks to the Baltimore Humane Society and her human family who is keeping her safe and happy! Mom Michelle will tell you that she's the lucky one … Meme has brought such joy and love to their home. Meme hopes YOUR pet will be loved and safe too. Won't you take the LOVE TAG CHIP Challenge?Once you take the Challenge, take a pic of your pet with their tag, post and share to encourage others to do so too.