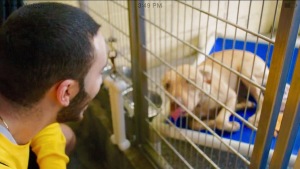 Towson Fraternity Brothers PAWS to Give Back for Rescues
How do fraternity brothers spend their free time?
You might be surprised with the answer when it comes to members of Sigma Alpha Epsilon-Maryland Alpha chapter, founded in 1981, at Towson University.
They've decided to put their passion for pets into action by volunteering with the Baltimore Humane Society.
---
MORE STORIES COMING SOON!
No matter where you live there is a shelter, rescue
or animal advocacy group of some type
that can use your help!
Even Generation Wags can use volunteers!
Plus, share your volunteer stories with us.
We might just feature them on our site!
Email us at generationwags@gmail.com