Health considerations of adoptive pets or ones already part of the household can be a major obstacle in a number of ways.
While some are onset due to age, others are conditions from birth or resulting from poor health care, neglect, accidents, etc.
Check back as we add to this section to share more conditions and successes related to tackling them.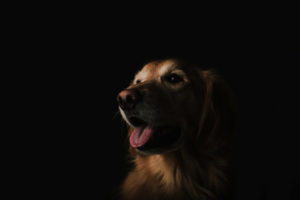 ---
Unfortunately, some pets born with special "conditions" find themselves in the rescue system being perceived as "damaged goods" and not providing the "profit" they are seeking. Others have medical maladies that go untreated due to lack of education, resources or purely neglect.
Thankfully, rescues and advocates step in where they are able to recognizing their value despite their condition. These groups serve as a bridge to many pet owners have embraced the challenge to provide the loving homes to these pets where their love is returned ten fold!
Learn about some of these special pets, and how their obstacles can be overcome.
For those without the means or resources, check out our Safety Nets section!
---
DOUBLE MERLES
Meet Keller … A Double Merle on a Mission!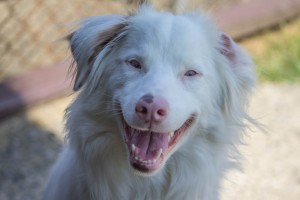 What is a "double merle"?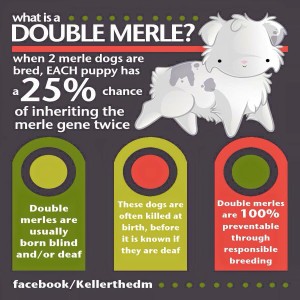 Keller was bred through two merle Australian Shepherds. She is one of the 25% that are born white and with "disabilities." She is completely deaf, and has a slight vision impairment caused by slew of eye abnormalities, but you would never know it upon meeting her. Keller joined our family in July of 2013 and changed our lives completely. We have had many challenges, but they are all worth it at the end of the day. She has taught me so many things and as a result I have set out to educate people on this wonderful breed and the consequences of breeding two merles together.
Many of these dogs are accidents, due to the lack of knowledge from "breeders." However some are bred intentionally due to the fact that you can have healthy puppies without deafness/blindness.
What puts a Double Merle "at risk" of falling into rescue?
Keller is a happy and active dog! However many pups born presenting her "disabilities" are not often as lucky! Many do not find their way into a home at all. Others may be passed from home to home due to lack of understanding, patience, or love to embrace them!
Fortunately by reaching out to others with similar pets and to trainers, these adversities can be overcome and the result is a dog that can blossom!
Visit Keller The Double Merle website! You'll find out about other double merles and additional info. Plus, visit Keller The Double Merle FB page to keep posted about her latest news.
---
Coming soon:
Deaf Dogs

Loving and Training Deaf Dogs featuring Deaf Dogs Rock!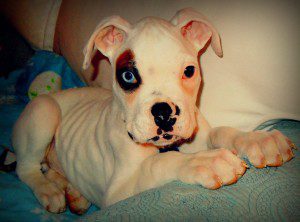 Meet Nitro
Additional topics:
Pets with Missing or Amputated Limbs or Deformities
Canine Epilepsy
Skin Conditions including Demodectic Mange
Autoimmune Issues
---
Tripod Pets! The sky's the limit!
Pets with three legs, affectionately referred to as tripods, may have been born that way, or may have lost a limb due to an accident, cancer, or other medical conditions.
But tripod owners are likely to tell you that their pet doesn't let their missing limb hold them back!
Below are some resources for tripod owners or others who would like to learn more about these amazing pets.


Tripawds "is a user-supported community for sharing your story and learning about amputation and bone cancer care for pets."
From their blogs and other resources, if you have or know of someone with a tripod pet please share their info!
---