Good Reads!
Here are some titles we hope you check out in addition to the book reviews by Skye that follow.
---
For ongoing reviews by Skye visit her DogEvals page!
Check out a new review of
Saving Audie!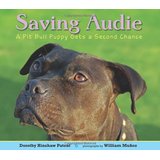 REVIEWER Skye Anderson, MS
APDT #69334
CGC Evaluator #88459
---
A Dog to Remember
by June Greig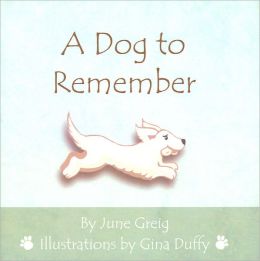 (Evergreen Bay Publishing, 2011, 51 pages, $9.99)
A little book that is big on heart: heart-filled love for a best friend who is gone but not forgotten.
Heart Dog
We have all had a heart-dog in our lives, a dog who captured us – heart and soul – and remains in our life even when gone from it. A dog who knew us as well as we knew him. A dog who could anticipate our mind just as we knew what he was thinking and feeling. That one-in-a-million dog who was our best friend – forever. A BFF.
Written by a golden retriever person, A Dog to Remember is about all dogs who have crossed over the Rainbow Bridge and currently wait for us. Nominated for a Dog Writer's Association of America award, it makes a lovely gift. June Greig, the author, is also a certified Pet Loss and Bereavement counselor*.
Small in Size, Big on Heart
This little book is written for you about your dog, yet is a book small enough to keep in a pocket and take out when needed, when you think of your best friend. A little book to keep on the bedside table and read every night – to read the words or just to read the drawings.
Children or Adults, or Children and Adults!
A book to read with a child to help ease the pain of loss and to help remember the good times. The words are for the adults while the simple drawings are for children. Each dog depicted is EveryDog. My favorite is also on the back cover – a dog with a star in the background, perhaps because every dog is a star to his special someone.
You can even dedicate your reading to your favorite dog, to thank him and remember him (special page for your dog's name).
If you loved Mostly Bob (Tom Corwin), you will cherish A Dog to Remember.
*Read more about it: www.ADogToRemember
Caveat: This book was sent to me for review.
---
Dogs Don't Look Both Ways: A Primer on Unintended Consequences
by Jane Hanser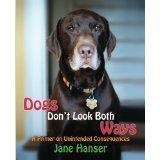 (Ivy Books, 2014, 162 pages, $12.99)
I LIKE it!
I like just about everything about Dogs Don't Look Both Ways! I like the size, I like the title, I like the author's first name (same as my middle name), I like the photos (very professional), I like the varying lengths of the nearly two dozen chapters, and I like the stories of Joey's life. I like the cover: I even like Joey's collar – Joey is so regal looking.
I really like the title! And I laughed at the photo of the Animal Control truck author Jane Hanser included on page 42! (It turns out the Animal Control Officer and Joey become fast friends!)
I like the dedication. In the words of Joey, the Labrador Retriever, the book is "dedicated to . . . the mail carriers who leave us treats every day, and the Animal Control policemen who bring us back home after we've escaped!"
I even like the Foreword, by Joey's emergency veterinarian.
Will the Real Author Please Stand Up?
I know a lot of readers don't like reading books that dogs have supposedly written. But I do. Perhaps I have only read those well-done, well-written books but I like getting into the mind of a dog to learn what makes him tick, what tickles his funny bone, how he observes us humans. What he thinks about and what he doesn't
Dogs is written by Joey, the chocolate lab, though his person's name appears on the cover as the author. Dogs is so well written that I invite those skeptical dog-author dislikers to check this book out. You might just love it like I did.
At first, though, Dogs seemed a bit forced. Joey himself wrote the book but his adjectives are big enough to have come from an English teacher (like his human mom actually is): however, either I became used to the flow or Joey toned down his high-falllutin language to the vernacular so that it didn't interfere with the flow of the stories after a few pages.
Suspenseful Beach Read
Dogs is a great beach read or plane book. I had hoped to finish it on the train from Washington, DC, to Connecticut but another part of me wanted to savor the stories. (I ended up reading it several times.)
Joey is a dog who never grew up though his command of the English language is commendable and his gift of gab is hilarious. You simply have to smile at Joey, his life, tribulations and antics all.
Have You Ever Wondered. . . . ?
Why does your dog continue to try to run away every once in a while (or constantly plot to do so) even when you scold him or shower him with kisses upon his return? Joey knows and will tell you if you listen hard enough. And he sneaks in quite a bit of information about Labrador Retrievers and dogs in general. I guess Joey wants a wise readership.
Joey Tells All – In Only Ten Years
Why do dogs dig? How does a lab grow up? Why does a lab want to do what his human family does? Why do dogs chew? Why do labs like sitting outside in the backyard? Why don't dogs look both ways? What good is a dog's nose? Do all retrievers retrieve? Do all labs love to swim?
What would you do if you were a dog and moved several hours away from your birthstate and then, quite by accident, were suddenly met by one of your litter sisters at a boarding kennel – would you recognize her, years later? Find out if Joey did.
And, of course, I love the chapters that relate the story of the title. What happens when dogs don't look both ways and how long do the repercussions last?
Joey, the chocolate lab, will reveal all these and other secrets to you in Dogs Don't Look Both Ways. Get it and read it over and over.
---
Off The Leash
by Matthew Gilbert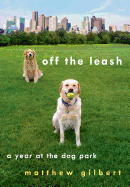 (Thomas Dunne Books of St. Martin's Press, 2014, 227 pages, $24.99
What is a Dog Park?
Who of us hasn't taken a dog to the dog park at least once? Or wanted to? Or has a friend who frequents the dog park (with or without said canine)?
It is well-known that this reviewer is a yellow lab and golden lover so imagine my delight to find a book cover with both my breeds! I simply couldn't resist!
Not only are these two dogs in the cover photo but each has a tennis ball in his mouth on a great expanse of green green grass with trees and skyscrapers in the background.
Dog parks are urban patches of green, often fenced-in, where dogs can romp with each other off-leash and run to their heart's content, cheered on by proud humans.
Question
TV critic Matthew Gilbert asks (and answers) the question: how does a non-dog-person such as himself become enamored of the canine species and fall in lovewith "everything dog"?
Answer
In short, fall in love with a dog-person! And start with an adorable lab puppy.
A Year in the Life of a Dog Park
Off the Leash chronicles Gilbert's first year with his dog, a yellow lab pup named Toby, and their canine and human friends from a Boston dog park. Of course, it is also about the growing relationship between man and dog for Gilberts works at home and can flex his work time to allow for dog park excursions – lucky human! And lucky dog!
A dog park, like few other locations, is one where people run into and befriend people they may not come into contact with or meet in other places – a hodge-podge of people whose one common denominator is dogs. Other than that, they are students, senior citizens, writers, lawyers, housewives. They are also loners, joiners, party-people and gossipers. Some are complainers and others fall in love. A true microcosm of the world at large in a little square postage stamp of nature peopled with dogs and their people.
Meet Charlotte, one of a kind who probably frequents every dog park in the country. Meet the college girl with a crush on the handsome stud of a guy who has no time for her but they both have dogs they love. Meet Gilbert's best friends at the dog park: meet Toby's best friends, which include a golden retriever who teaches the pup how to play and do just about everything else, with golden patience.
Starting in the fall with four essays and going through winter (seven), growing into spring (six) and finally into summer (five), Off the Leash has two unforgettable "chapterettes" with a discourse on poop and how people take care of it or don't, and on balls of the tennis kind. Off the Leash is a book also about beginning and endings as people come and go with their dogs and college students move on with their lives elsewhere.
Dog park members will love this little book and will recognize all their dog park friends in it. For novices, it will service as an introduction to the people-kinds one might expect to interact with at the dog park.
(Caveat: This title was sent to me by the publisher for review.)
---
9/21/14
Give Fostering a Try!
From Homeless to Homeward Bound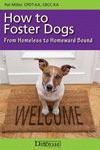 EverythingDogBlog #173: Foster Families Needed – Yours?
How to Foster Dogs: From Homeless to Homeward Bound, by Pat Miller (Dogwise, 2014, 158 pages, $14.95)
Not sure you have what it takes to take on a dog – or another dog? Haven't had a dog since you were a child when your mother probably 'did it all'? Never had a dog but would love to get one? Want to learn about dogs?
Fostering may just be your answer.
You Want to Foster, But. . . .
The dog world needs more foster families and yours may be just right!
You will have all the help you need if you research rescue/shelter organizations to find the right fit, gain some knowledge via books like How to Foster Dogs: From Homeless to Homeward Bound and from experienced people, and keep at it by asking the right questions for you.
Temporary Dogs
Foster is also a stellar reference for the experienced foster family, answering questions you may never have thought to ask.
Superb Organization, Easy to Read
Foster begins by defining the term, fostering, and by detailing the types of organizations one can foster for (or foster with), as well as the benefits for you and for dogs. Foster then delves into the various kinds of shelters and rescues and how to select one whose philosophy matches yours and which offers a continuing education and support program for foster families.
"Bringing Your Foster Home"
Don't know how to get ready for your foster dog, how to introduce him to your canine, feline, and human family as well as his new routine? Pat Miller is here to help, and to give solutions for when things go wrong. She also includes sections on socialization and the all-important record keeping.
Feeding, grooming, veterinary care, exercise, training (and training tools) are covered in Chapter 4 while the final chapter will help you say goodbye – if the foster-dog foster-family match doesn't work out or when you, bittersweetly, turn your foster over to his forever family. It's OK to say goodbye.
Prevention and Solutions
Chapters 5-9 discuss common issues that fosters (and all dogs) may have – and how to help those dogs. From common problems like barking, escaping and house soiling to the more complex behavior issues of fearful dogs ("Finding Courage"), and topics such as aggression and separation anxiety/distress ("Home Alone," a dog's worst nightmare).
Miller defines and offers solutions of management and training but she begins the 'problems' chapters with refuting the fallacy of dominance and the myth of the alpha dog, a much needed discussion in every dog book, for every dog family, in every dog class. Miller was one of the first to help the dog training community heal the damage the 'dominance' philosophy has caused to dogs and the bond between them and their people.
Who is Pat Miller?
Dog trainer and horsewoman Pat Miller got her start in California shelters decades ago and has made a successful business career with animals. She has a knack for jumping on the bandwagon and making a new dog sport or activity more popular by learning about it early, then teaching others and writing about it.
Must Read
Foster is a must-read for all shelter and rescue people, all foster families and even new dog people! But, it is not just a book to read once: rather, keep it handy for the life of your dog. "Ready, Set, Go!"
Read more about it: DogWise is a superb source of EverythingDog – simply the best publishing company and bookseller for dog people. Reach them at www.dogwise.com
Caveat: This book was sent to me by the publisher for review.
---
9/9/14
A Home for Dakota (children's book, puppy mills)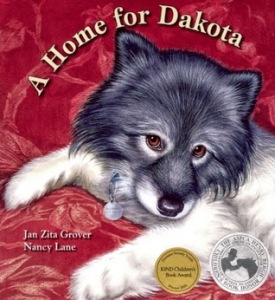 by Jan Grover
(Gryphon, 2008, 24 pages, $15.95, ages 5 and up, in the Sit! Stay! Read! series)
A Story of Hope, Fulfilled
How I wish A Home for Dakota were written in 2014 so I could claim it as my book of the year!
Warm. Second chances. Delightful illustrations.
Dakota was honored with the ASPCA's Henry Bergh Award, Fiction, Companion Animals, Children's Book Honor and the Humane Society of the United States (HSUS) Youth KIND Children's Book Award (best children's picture book of the year) so you know it is special.
A Kid's Book for Grown-Ups, That We All Need to Read
Before Dakota was Dakota, she was simply dog #241, a breeder-dog in a puppy mill whose puppies were taken away, time and again. Dog #241 lived in a crate all day, every day.
Until Emma
Emma took her and comforted her, gave her a name, bathed her, gave her medicine and her first-ever hug. Slowly Dakota's fur started to grow back but in patches. And then a little girl came to meet her – but didn't want her because Dakota wasn't yet perfect.
How could such sadness happen twice to one little dog? What will become of her? To see what happens to girl and dog, you have to read the book. It is a book you will remember.
Gryphon Press, A Voice for the Voiceless
The Sit! Stay! Read! Series of books for children by The Gryphon Press have garnered many awards since they began in 2006 – and deservedly so. The illustrations are water-color warm and touchable, the stories are sad yet hopeful, and they impart a powerful lesson for children and grown-ups alike. Lessons we may not want to hear but need to help with. Puppy-mill puppies, abandoned dogs, . . . .
Other titles in The Gryphon Press series include Buddy Unchained (2006), At the Dog Park with Sam and Lucy (2006), Max Talks to Me (2007) and Are You Ready For Me? (2007), as well as It's Raining Pups and Dogs (2013). These books were recently named to the recommended reading list of the National Humane Education Society.
Each book also includes a fact page in the back. Dakota's info page for adults is the best information on the subject that I have ever read, from Definition to Conditions to What we can do to 'what puppy mill dogs need to successfully live with a family' to websites and other resources.
The Value of Dakota
I believe these books should be required reading for all first-graders. They are difficult subjects, handled gently and with hope for change in the future – for all animals and people alike. For the dogs in the book, hope is turned into love and a future.
Maybe we can change the world after all!
Read more about it: http://www.thegryphonpress.com/
Here is a teaching guide to use, the existence of which tells you it is a great book!
Disclaimer: I checked this book out of my public library.
---
9/8/14
The Little Blue Dog Goes to School
by Karen Roberts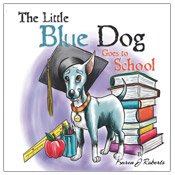 (CreateSpace, 2013, 36 pages, $12, ages 5-9)
Teach Compassion. Inspire Kindness. Choose Adoption.
Third in The Little Blue Dog series, The Little Blue Dog Goes to School is the winner of the 2014 Second Place Feathered Quill Book Award in the Animal/Children fiction category.
Just like the second book, The Little Blue Dog has a Birthday Party, in which Louie does a good deed, in this third book, he also has the opportunity to do good just by being his happy friendly wonderful self.
School for Dogs
Louie makes a new friend when he out walking with his person – a girl in a wheelchair and her service dog. Then Louie has a chance to visit a school for dogs. Some dogs are learning to be service dogs; others, to be therapy dogs: and still others, to be reading buddies for kids learning to read. Lucky Louie then gets the chance to go to school himself. Louie loves school and his job after graduation. Read the book to find out what kind of a helper dog the little blue dog becomes.
Louie's Wish
There is so great a need for trained dogs to help people who need someone to open doors or pick things up for them, to visit them in hospitals and nursing homes. And there are so many dogs in shelters waiting for their second chance who would love to go to school to learn how to help people. Louie's greatest wish is to match up more of these teams. Both ends of the leash would benefit.
You, too, can help grant Louie's wish, first, by reading this book. Hopefully it will send you to your local shelter for some two-way love.
Once Again
Once again, Karen Roberts has married a heart-warming story with delightful illustrations (and a challenge to find the little pictures in the big ones).
(Proceeds from the sale of The Little Blue Dog books go towards carefully selected animal rescue groups.)
---
The Little Blue Dog has a Birthday Party
by Karen Roberts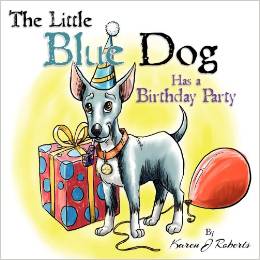 (CreateSpace, 38 pages, $12, 2012, ages 5-9)
Shelters and Second Chances
In this second book in The Little Blue Dog series, lucky Louie, the little blue dog, never forgets where he came from (shelters) and wants to "pay it forward," so he is overjoyed to find his new family will welcome a fourth little pup into their happy home.
Family, Friends, Fun and Canine Cake
Louie, half Chihuahua and half Italian Greyhound, is almost a year old and on Saturday will celebrate his birthday with family, friends and fun. Oh, and canine cake, too! And gifts galore, of course. And chasing and racing, and Frisbee and fetch, and barking and howling, . . . .
But Louie remembers where he came from and wants to help all the lonely, sad, scared yet deserving homeless dogs still in shelters, waiting for their new forever families. What he manages to accomplish with his dog friends and loving family will surprise and delight the readers – and maybe even challenge them to do the same.
Lovely Illustrations
I love the 'water-colored' little blue dog who lives in a big blue house. Perhaps there is a stuffie (stuffed animal) of The Little Blue Dog in the future?
In The Little Blue Dog has a Birthday Party, however, unlike the first book, only some of the pages feature a portion of the illustration on the facing page to emphasize (other pages are strewn with paw prints and bones). The challenge is to find the differences in the little illustrations and the full-pagers – more fun for the reader and the read-to.
And, . . .
Little dogs take over the living room when they nap: every home should have four little dogs, thinks Louie. Or, hopefully even more – from the shelter, of course!
(Proceeds from the sale of The Little Blue Dog books go towards carefully selected animal rescue groups.)
---
The Little Blue Dog
by Karen Roberts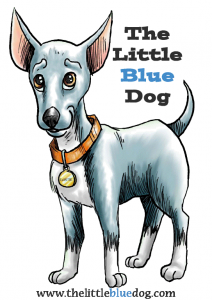 (CreateSpace, 2012, 40 pages, $13, ages 5-9)
Lovely Little Story, Lovely Blue Dog!
I am constantly encouraging adults to read children's books and The Little Blue Dog is no exception. Any award-winning book is worth reading, but especially The Little Blue Dog books: The Little Blue Dog won the prestigious 2013 Indie Excellence Award for Children's Fiction!
This little blue dog, a designer dog (mutt), is half Chihuahua. (His other half is Italian Greyhound.) How this little blue dog from the pet store, a nice home, and two shelters (with a cross-country plane trip in between) becomes Louie is a story the child in you will want to savor.
Illustrious Illustrations!
The illustrations in almost-watercolor are simply adorable! (I want more and would love a poster of Louie.) Karen Roberts gets just the right facial expression in human or dog. An extra is the two-page map of the United States, showing the plane flight of the little blue dog from California to Massachusetts.
Secret Bonus
Many two-page spreads have the story on one side with a full-page illustration on the facing page. But, on the side with the words is also a very small portion of the large colored drawing. It may take you a while to find the small slice on the opposite page: however,
I wager your child will find it before you do!
P.S.
Little Louie loves his cats and chickens and reminds us to never give up hope. . . .
(Proceeds from the sale of The Little Blue Dog books go towards carefully selected animal rescue groups.)
---
Travels with Casey: My Journey Through Our Dog-Crazy Country
by Benoit Denizet-Lewis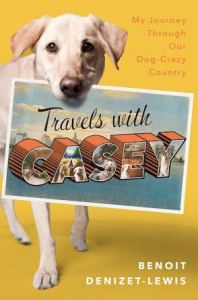 Simon & Schuster, 2014, 341 pages, $26)
Our National Love Affair with Dogs
If you think 341 pages is a long book for a best seller, think again: Travels with Casey was too short!
The cover grabbed me first: a tall yellow lab-type dog holding an old-fashioned type postcard with the book's title and CASEY in large cut-out letters (each with a partial photo of Casey inside) against a backdrop of a city by the sea (or river). . .
Why have I not read anything by Benoit Denizet-Lewis before? Is it because he writes for the New York Times Magazine and I live in the Washington area? Regardless, I will be looking for Lewis in the future. He is one funny writer – and sensitive to boot! A real canine academic and a true dog-person.
In a Nutshell
Lewis and his yellow lab-type dog set out from Massachusetts in a rented RV to see the country from a dog's eye view and to explore the bond between man (Lewis) and dog (Casey).
Starting rather weakly with a long prologue comparing Lewis' relationship with his mother to that of his dog and wanting to mend (strengthen) the latter, Travels takes us down the East Coast, across the South, up the Pacific Coast and across the Great Plains back again in four months.
Travels is also a commentary on the importance of dogs in contemporary life, reminiscent of One Nation Under Dog (Michael Schaffer, 2010), Citizen Canine (David Grimm, 2014) and perhaps even Travels with Charley (Steinbeck, 1968). Lewis is informative and entertaining – and not to be missed. I am so glad I bought this book at my local bookstore and I will keep it (I usually pass on books I review to dog shelters or rescues). It is a book easy to take with you and read when you have 'just a minute.' You will want to return to it often.
How Did He Do It?
Lewis keeps mentioning his aversion to organized neat living, giving example after example, so how he managed to fill four months with interviews of almost all the dog people (daily) in the country you would ever want to know borders on miraculous – from the Westminster Dog Show in New York City, Ingrid Newkirk who founded PETA, the 'dog poop lady' in Virginia who was sued for not picking up her dog's poop, dog rescuer Randy Grim, 'rez' dogs, K9 cops, Best Friends in Utah, and on and on. Those he did not visit, he at least read the books they wrote and quoted from (Ian Dunbar, Patricia McConnell, Karen Pryor among others).
Lewis and Casey blog about their travels and foreshadow to keep you reading (not necessary at all) about a new member of the family, about heartache, for example.
Bonus Number One: Roadtripping Through Dog Nation
I, of course, tried to figure out which 18 states they did not travel. Inside the front and back covers is a two-page map of their travels but with drawings of the RV and dogs met along the way and of other adventures, I wasn't sure if they cut across a corner of some states (and some of the illustrations covered their path, as well, making my challenge even more challenging). I think I got all but four.
Bonus Number Two: Dogs in America Today
The 21 photos of Casey in the RV, Casey dock-diving, Casey with the Golden Gate Bridge in the background! Some by Amanda Jones, even! My favorite is of the Dog Bark Park Inn in Idaho (Sleep inside the World's Biggest Beagle!).
What Would I Change?
Although Lewis is well-read on dogs (from Dunbar to Pryor to McConnell to Derr) he obviously wanted to appeal to mainstream America by also visiting the popular Cesar Millan, not always respected by those dog-people in the know.
I might perhaps cut the chapters into shorter versions but that might lose the charming titles, all of which start with "In Which. . . ."
Or I might recommend Lewis take another trip with Casey!
PS – If you have read this far and are still not convinced, check out the videos on the web page, http://www.travelswithcasey.com/
---
Citizen Canine: Our Evolving Relationship with Cats and Dogs
by David Grimm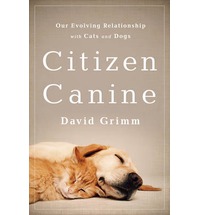 (Public Affairs [Perseus Book Group], 337 pages, 2014, $26.99)
The headlines shouted, "Leona Helmsley Leaves $12,000,000 for Her Dog and Nothing to Her Grandchildren!"
What does that tell us about our society today? Is that where we are headed? Is that where we really want to go?
Similar to One Nation Under Dog (by Michael Schaffer), Citizen Canine is easy to read, easy to put down, and even easy to pick up again. However, One Nation covers many dog topics while Citizen Canine focuses primarily on one: whether dogs and cats will ever become more than "just property," along with the pros and cons and history (and stories) thereof.
Dr. David Grimm
David Grimm, the author, and I have a lot in common. He has a PhD in Genetics. I have an advanced degree in Genetics. He lives in Maryland. I live in Maryland. He is an editor (at the prestigious journal Science). I was an editor (in military intelligence and aerospace R&D). He teaches journalism at the college level. I taught college Biology and Scientific English at the graduate level. And, lastly, he is a good writer while I am a good reader.
In a Nutshell: Family, Person, Citizen (in that order)
Twelve chapters are divided into Family (four chapters), Person (four), and Citizen (four), thus, easy for you to refer to the Table of Contents to refresh yourself on where you are in the timeline and what is yet to come.
Family. Person. Citizen. In that order and yet, a change in terminology is more than mere semantics (p. 150). The Family third is the most memorable with stories about Henry Bergh who founded the ASPCA, for example. Dogs and cats became family and moved into our houses as we left the countryside for the city and as flea and tick preventives and treatment came onto the market – even more so when we developed dog and cat food (kibble).
Story after Story to Entertain while Informing
Grimm toured the country, from Louisiana to Colorado to North Carolina to California to Minnesota and places in between. He was fortunate to be able to spend time with dog-people like Dr. Marc Bekoff* and Dr. Brian Hare**, fascinating, ground-breaking dog authors in their own right.
Volunteers of ARNO, the Animal Rescue of New Orleans, and LAPD's Animal Cruelty Task Force (not just the Puppy Police) also received a visit from Dr. Grimm and his magic pen, along with several pages and stories in Citizen Canine.
Local Interest: "My Pit Bull is Family!"
Grimm, who lives in Baltimore and teaches at The Johns Hopkins University, spends a fascinating several pages on Maryland's recent BSL (breed specific legislation) case: Citizen Canine also highlights one local Baltimore shelter, BARCS, and some pit-bull people I know who worked ceaselessly with the HSUS to overturn Tracey vs Solesky and, just recently (after publication) to implement breed-neutral dog bite liability law. "Ban the deed, not the breed." (As a matter of fact, not even the CDC (Center for Disease Control and Prevention) endorses BSL.) I think we may be finally making progress!
And History Need Not Repeat Itself
Thanks to David Grimm, I will always have a warmer spot in my heart for the story of the ASPCA's founder Henry Bergh. And, did you know that a study has finally confirmed that those who abused animals are five times more likely than non-abusers to commit violent crimes against people? This includes Ted Bundy, Jeffrey Dahmer, and nearly every other serial killer, all of whom started their infamous careers torturing animals.
And Now, Towards the Future. . . .
Service animals are close to becoming real citizens in that they are working dogs who are allowed to go wherever their person goes. So, too, law enforcement dogs have rights not given to family pets: just as injuring law enforcement personnel is more serious than injuring a member of the public, so, too, is injuring a member of the canine corps more serious than injuring a family dog.
But are we ready for another Leona Helmsley? Will we ever be? Should we be? That is the question in our future and the future of our dogs and cats.
Bonus: Citizen Canine also includes a Brief History of Cats and Dogs!
---
*Dr. Marc Bekoff, pony-tailed retired ethologist and author of 22 books (Colorado)
including Wild Justice and The Emotional Lives of Animals, studies how dogs play.
**Dr. Brian Hare ('Scientist. Author. Dog Guy.'), dog cognition (thinking and
intelligence) professor at Duke in North Carolina and author of the very readable
book, The Genius of Dogs