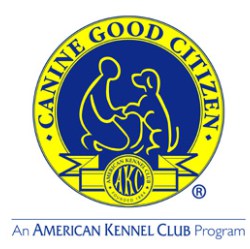 Did you know that your dog could become a Canine Good Citizen? Why would you consider this distinction for your family pet?
The advantages can be very personal for you, your family, and your pet. Plus it can actually provide your pet with skills that could ultimately keep it safe from falling into the rescue system one day!
According to the AKC,
"Started in 1989, the CGC Program is designed to reward dogs who have good manners at home and in the community. The Canine Good Citizen Program is a two-part program that stresses responsible pet ownership for owners and basic good manners for dogs. All dogs who pass the 10-step CGC test may receive a certificate from the American Kennel Club."
On the AKC's website they note:
"As you work with your dog to teach the CGC skills, you'll discover the many benefits and joys of training your dog. Training will enhance the bond between you and your dog. Dogs who have a solid obedience education are a joy to live with-they respond well to household routines, have good manners in the presence of people and other dogs, and they fully enjoy the company of the owner who took the time to provide training, intellectual stimulation, and a high quality life."
Here's a link to find a class in your area!