All Companion Animals Make for Pawsome Pets
Some pets take their abilities to a whole new level as EXTRA pawsome pets!
For years seeing eye dogs have been used to assist those in need. In growing numbers, the pawsome abilities of dogs have been utilized to address learning, medical, and emotional needs. Cats are also used for their healing powers.
Learn about pawsome programs and pawsome pets making a huge difference.
---
Austin Dog Alliance

The Austin Dog Alliance (ADA) provides fantastic programs including pet therapy. As described on their site: "Pet therapy, or animal-assisted therapy (AAT), uses trained animals and handlers to achieve specific physical, social, cognitive and emotional goals with patients and students."
Studies show that physical contact with a pet lowers blood pressure, improves survival rates for heart-attack victims and releases endorphins, chemicals in the body that suppress pain. This makes therapy dogs ideal for use in patient settings.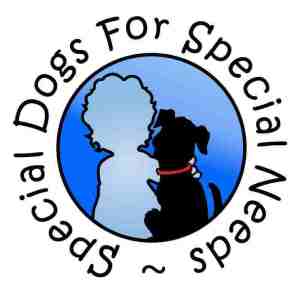 Special Dogs for Special Needs
ADA's Special Dogs for Special Needs program is designed to provide dogs with solid temperaments and training to families who have a special needs child or adult in the home.
A Special Dog has a solid temperament that is characterized as
friendly and confident in a wide variety of situations with people of all types and abilities
completely non-aggressive
controllable, predictable and reliable
actively seeks human interactions

Austin Dog Alliance Mission:
To improve the health and well being of individuals and families through programs incorporating the powerful connection between dogs and humans.
To achieve our mission, we:
provide therapeutic canine-assisted programs for children affected by Autism Spectrum Disorder or ADHD
provide job-skill training in dog-related careers for young adults with special needs
offer animal-assisted programs in nursing homes, hospitals and rehabilitation centers
enhance student reading skills through the Bow Wow Reading Dog program offered in schools and libraries
provide a variety of fun and educational programs designed to build self-esteem and teach children to love and respect dogs
provide professional and positive dog training classes
rescue and train shelter dogs for placement in special-needs homes as pets or service dogs
---
Bow Wow Reading Dogs program
The Bow Wow Reading Dogs program is designed to help below grade level readers improve their skills. The program improves children's reading and communication skills by employing a powerful method: reading to a dog.
Learn more about the other fabulous programs offered by Austin Dog Alliance by visiting their website.
---

PAWS for People™
(Pet-Assisted Visitation Volunteer Services, or PAWS) is a non-profit organization committed to providing therapeutic visits to any person in the community who would benefit from interaction with a well-trained, loving pet.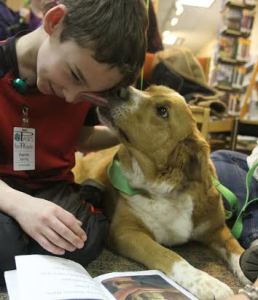 What makes PAWS for People stand above other pet therapy services is their emphasis on providing individualized therapeutic experiences for every person they visit.Their strict standards in training and testing dogs and cats make sure every therapy team is capable of meeting the various needs of their diverse clientele.
Learn more about the fabulous services they provide by visiting www.pawsforpeople.org.
---
4 Paws for Ability trains service dogs for children as well as veterans!
Check out their video and visit their website to learn how their diverse program is utilizing the pawsome abilities of dogs to serve greatly needed assistance.
---
Boston Children's Hospital's Paw Prints Program

Each Pawprints dog and handler makes their patient "rounds" at least twice a month. These "rounds" include visits with up to 10 patients, along with visiting parents, siblings, friends and Boston Children's Hospital staff. If the child requests, the dog may make a "bed visit" (the dog lays on a clean sheet on the bed) so the child may easily pet the dog. Visits typically occur in patient rooms, although some visits occur in activity rooms on the floor.
---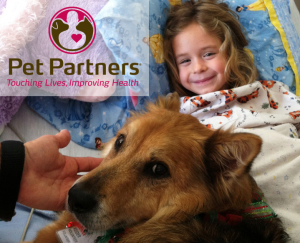 As outlined on their site, Pet Partners explains … Sometimes it takes an animal to do the job.
At the heart of all of Pet Partners' programs is a research foundation which demonstrates that when animals are around, people's blood pressure goes down, stress and anxiety levels are reduced, people feel less lonely and less depressed, and they tend to be more social and community oriented.
Learn more about their efforts and impact and how they utilized dogs, cats and even bunnies!

---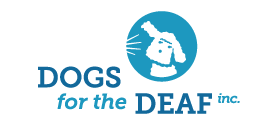 Rescuing and professionally training dogs…
…to assist people, enhance lives & provide greater independence is what Dogs for the Deaf is all about.
Dogs for the Deaf rescues dogs for our programs from animal shelters throughout the western United States. After professional training at our southern Oregon facility, the dogs are placed with…
People with a variety of disabilities and challenges including: hearing loss and deafness.
Full-time professionals (teachers, physicians, counselors, and other healthcare professionals) in the treatment of and work with their clients.
---
Service Dogs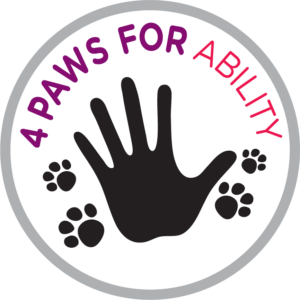 4 Paws for Ability's Mission Pawsible program in Ohio not only includes a prison program, but an extensive program of training therapy dogs for children!
Check this out!
---
Miracles Happen … a therapy dog that came to be.
The story of Xena and Jonny