When a neighbor's home was hit by fire, Rose and her husband were unaware that the response work that resulted apparently created a break in their privacy fence.  But after letting their dogs out one night and all but one coming back in, they realized that opening gave way for "Lil Love" to wander out into the night.
Days passed, and despite efforts to find her including repeated in person visits to area shelters in/around their area Lil Love was not found.  Heartbroken, Rose took heart in the fact that Lil Love had a microchip which eventually would hopefully lead her back home.
Meanwhile, weeks later, neighbors in an area some 40 minutes away from where Lil Love escaped had noticed a stray dog and made it their business to step in.   Among those involved is a woman named Michelle who is not new to helping lost pets and rescues.  She recounted their efforts on a her Facebook page post:
"It took a village, as always. Yesterday, a lady named Gloria posted a dog on 33rd Hoyne. Unfortunately, the dog wouldn't let anyone get close.  Jared went out last night and tried to catch her but she ran off. Food and water was left for her. Today, I went looking. She was laying next to the food. Of course, she ran from me. I followed her and she ran into a gated yard. I closed the gate and grabbed my leash and pole since she was a big girl. After several failed attempts, I got her. Once in my car, she calmed down and was a sweetheart.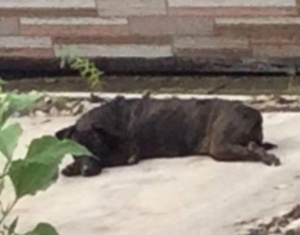 Luckily, not only was she chipped, but her owner had reported her missing in June. We may never know how Lil Love traveled over 10 miles from home. She had to of crossed a ton of busy streets. She's a survivor.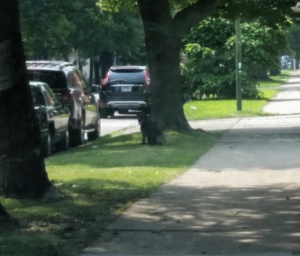 Thank you to everyone, especially Jared, Gloria, and Christine  (another one home thanks to your generosity with the scanners.) We can't forget to thank Susan Taney and Lost Dogs Illinois for making this girl an engraved tag. If she gets lost again, it will be easier to find her home. Also, a big thank you to Ivan at CACC for helping contact the family."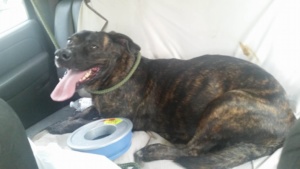 Michelle contacted the registered owner and was answered by Rose who was overwhelmingly happy to learn that Lil Love was found and in good shape!   She was equally thrilled when Michelle offered to bring her home for the reunion.
Lil Love is now back home, a bit thinner but seemingly cared for in some way as her pads did not appear damaged from the 2 months away, and very clean.
The first 24 hours home, Lil Love seemed scared and had a small limp.   But by the second day she was back to herself enjoying the love and company of her human and canine family members!
Story Take-Aways:
Microchip, microchip, microchip (and make sure it's registered and with up-to-date info)
If you see a stray dog help in some way, whether it's posting a sighting on a lost/found page, or reaching out to those who might assist you in safely rounding it up.
Always get a pet that is found and captured scanned for a microchip if no visible collar with an ID tag helps you find the owner.
If your pet is microchipped, ask your vet to scan the chip during your pet's annual visit to make sure it can be detected.
---
Keep stories coming our way!  Email us YOUR reunion story!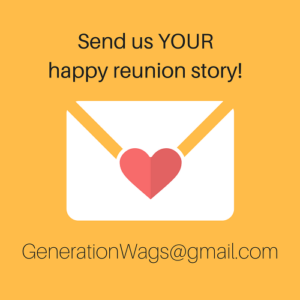 ---
  Remember to microchip, register,
and keep your contact info updated!
Even if your pet has gone missing and it's been some time,
you might one day get that miracle call!

To visit the home page for our
Monday Microchip Miracles blog
click here to read other happy reunion tales!
#LoveTagChip YOUR pet.