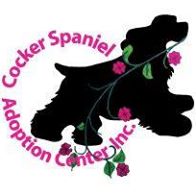 The Cocker Spaniel Adoption Center in Westminster, Maryland is a non profit rescue that strives to say, "yes" to every homeless Cocker Spaniel and honorary Cocker Spaniel that needs a soft place to land on the journey to their forever home.
When the Cocker Spaniel Adoption Center received a call from a local shelter about Princess B, a 9 year old with matted hair and cherry eyes they were, thankfully, able to say yes.
A volunteer transported Princess B from the shelter to a veterinarian where she was admitted for grooming and an exam. In addition to the cherry eyes, poor Princess B had a skin infection, ear infection, bladder stones and toenails that were growing into her paw pads. She underwent surgery to correct her eyes and remove the stones that were plaguing her. Once Princess B was well enough, she was transported to a kennel until a foster or adoptive home could be found for her.
The shy cocker wasn't doing well at the kennel. As luck would have it, long time fosters, Bob and Ann had a spot open up in their home and thought Princess B would fit in well with their pack of 5. They were right! Though still timid, Princess B finally began to relax and settled nicely into her foster home.
As Bob and Ann got to know Princess B, they discovered that she loves food. She gets very excited about her meals! The first time they ever heard Princess B bark was during a trip to the drive thru! They discovered her favorite spot in their house is in her bed under the kitchen table. She doesn't enjoy playing with toys, but does like her chews. They also discovered that Princess B enjoys being petted and scratched which is what Bob was doing when he discovered a mass on her side.
The Cocker Spaniel Adoption Center set up surgery for the mass to be removed. Thankfully, the mass ended up being benign, but that wasn't the end of Princess B's medical problems. Her next medical crisis came in the form of a torn ACL. Princess B underwent surgery to correct her ACL and was taken back home with her fosters to recover.
Princess B made a full recovery and continued enjoying life with Bob and Ann while waiting for a permanent home.
Unfortunately, Princess B had another obstacle to overcome. From the time she entered into Cocker Spaniel Adoption Center's care she suffered from severe and reoccurring ear infections that led her vet to recommend an ear ablation, a surgery in which the ear canal is removed. Princess B came through the surgery with flying colors and was finally free from the chronic ear pain that had likely afflicted her for years.
Princess B has been with the Cocker Spaniel Adoption Center since November of 2015. She is doing well with her fosters and is waiting for her forever home. Bob and Ann think Princess B would do best in a quiet home, perhaps with someone that is retired and able to spend the days relaxing with her. Even though Princess B does fine with other dogs, they seem to overwhelm her, so a home where she can be the only dog would probably suit her best.
To learn more or apply to adopt Princess B click here.
The cost for Princess B's care including vet checks, boarding, medications, vaccines, consultations with specialists, and surgeries to date totals $5,464.64. This staggering total is with the discounted rates the rescue receives and is an example of how the Cocker Spaniel Adoption Center adoption fee for dogs 9 years and older of $250.00 doesn't even come close to their costs, which is why donations are always being sought.
Thanks to the Cocker Spaniel Adoption Center, Princess B is well on her way to her own fairy tale ending!
---
Read more tales about The Real Cost of Rehoming Pets
by clicking here