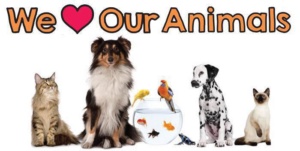 All Animal Rescue, located in San Martin, California, is a non-profit all-volunteer rescue group dedicated to helping animals in their community and educating them about animal welfare.  It has a very active community and has two FaceBook pages: one is their organization page with adoptable pets and the other is All Animal Rescue: Lost & Found (Morgan Hill, San Martin, Gilroy).  Their community members monitor and step in to help provide many pets that find their way into difficult situations with safety nets in a variety of ways.
About 6 months ago, one of AARF's community members Sara Filice-Hamilton began seeing a sweet kitty around her home and began feeding it.
AARF co-founder Gwen Dorcich reported about Dusty's story on their community page:
"The kitty has been making herself more and more comfortable and getting very attached to their dog. Kitty would sometimes go into the house but most of all liked to just lounge in their back yard.  A couple of months ago, Sara posted asking for someone to please scan the kitty because it was obvious that she was not feral and extremely friendly. A couple of people with scanners offered to go over and scan but the timing never seemed to work out, it was like kitty knew something was up!
This week Sara finally had the kitty scanned and she was chipped. I contacted the microchip company and located an owner. The microchip company had the kitty down as a dog, the address was wrong and the number wasn't working. Through a little investigating and detective work, I was able to track down the owner. Kitty had been missing for 6 years………yes, 6 years!
Kitty who is actually Dusty was adopted from the San Martin shelter along with her sister Shadow back in 2010 by Noreen and her family. On a routine trip to the vet a year or so later, Dusty escaped from the car never to be seen again. They searched high and low for Dusty but couldn't find her. So, you can imagine how shocked they were when I called them this week and told them we had Dusty. The Bergin family never hesitated when I asked them if they would like to have their kitty back. Wednesday morning I picked up Dusty from Sara and reunited her with her family. She was obviously nervous and a little hesitant but she is doing much better now. Riley the son has been spending the most time with Dusty and she is settling in nicely."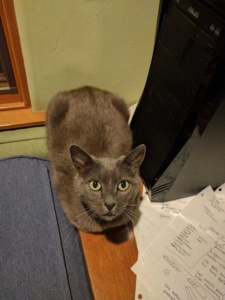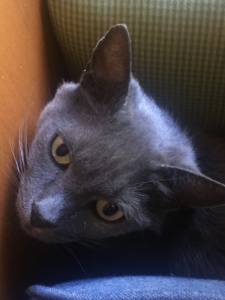 Shown above is Dusty, adjusting to being "back home" after missing for six YEARS!
---
Sara reflects on her time with Dusty:
"Loves to be rubbed around her ears! She would always rub her head on my dog and then flip over into him … she would go under our deck and lay in plants and webs and what not."
---
BACK HOME!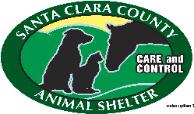 Dusty and twin Shadow were adopted in 2011 from the Santa Clara County Animal Shelter, located in San Martin, CA at about 3 months old. In fact, they also got a third kitty with during the shelter's "Buy two get one free" special!
Luckily, as standard practice, this shelter microchips their pets before they leave for their adopted homes.  In addition, Dusty's microchip info was registered and up-to-date, allowing for Dusty's mom to be notified that she had been found!
Now back home, "mom" reports:
"Dusty is laying low and finding comfort in Riley's box springs sneaking out for a nibble of food every so often. I'll send a pic when I can get one. Riley's watching out for her and has the scratches to prove it. "
---
Dusty's story is a great example of happy endings that can happen when prevention measures such as the microchip Dusty got from the shelter, and the role that Sara played by stepping in to care for, and eventually help capture Dusty and get her scanned.
Sara's patience, care, perception and follow through made this reunion happen!  She is a perfect example of what we promote on our initiative site Unite 2 Reunite (U2R) as doing due diligence!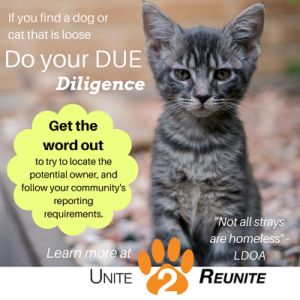 Learn more about U2R and how YOU can get involved with helping to reunite more lost pets.
---
More about AARF!
Co-founder Gwen shares more about her amazing community:
The "Friends" in All Animal Rescue & Friends represents our community. We could not do what we do without our amazing community members who help us so much. We are not a regular rescue, we are a street rescue.
We are out in the community helping to catch loose animals, reuniting pets with their owners.
Taking in abandoned pets which are literally dumped.
We do take surrenders and we do pull from shelters but we are more street/community known.
We are ALL Animal, not just cats and dogs.
Thanks AARF for all of your valuable work for the animals in your community.
---
Story Take-aways:
Pay attention to strays in your area, report them, and if secured make sure to get them scanned for a microchip if no visible tag is on them.
Collars and tags with visible ID tags are the quickest way to get a pet home.
If adopting from a shelter or rescue, be sure to be informed as to whether they have microchipped the pet and, if so, if they have registered it already. If so be sure to add YOUR contact info and keep it updated.  If they only inserted the chip, be sure to register it.
Always keep microchip info updated with any contact info, and consider adding a few back up contacts just in case.
If your pet goes missing, report them as such to your microchip company asap.
If you find a pet, make sure to do your due diligence by getting it scanned and advertising it as found to give an owner the opportunity to contact you.
Be sure to include posts of lost and found pets on HeLPingLostPets.com, a free national registry!
---
Keep stories coming our way!  Email us YOUR reunion story!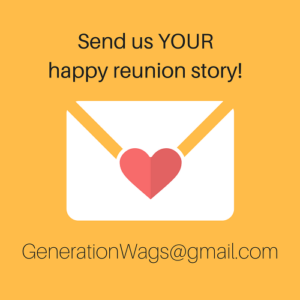 ---
  Remember to microchip, register,
and keep your contact info updated!
Even if your pet has gone missing and it's been some time,
you might one day get that miracle call!

To visit the home page for our
Monday Microchip Miracles blog
click here to read other happy reunion tales!
#LoveTagChip YOUR pet.