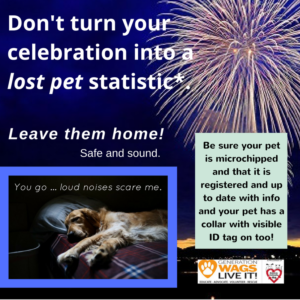 Fireworks … while a part of family and community celebrations they are at the heart of what can be a pet owner's worst nightmare. In fact, the 4th of July is one of the days notorious in the lost pet community and local shelters as one when a huge uptick of lost pets that have bolted, scared by fireworks, occur.
Such is the case of a Treeing Walker Coonhound McKenzie who went missing on June 22, 2016 in Michigan when she was startled by fireworks and jumped the fence.
When a celebration is planned, like the 4th of July and fireworks can be anticipated, pet owners more and more are being reached out to in order to advise them to leave their dogs at home safe and sound : ) Yet many are still vulnerable even in a yard where they might be able to get out.
But when fireworks are set off unexpectedly, those precautions can't be taken.
As we approach the 4th of July, or should you suddenly hear fireworks at another time, try to quickly secure your dog and put inside where it's quiet and safe. While McKenzie's story of going missing occurred as a result of sudden and unexpected fireworks, we hope the timing of her story will serve as a reminder to all about the real concern fireworks present when it comes to contributing to dogs that run off as a result.
---
Now for McKenzie's cold case story in hopes we can raise additional awareness and be supportive of the efforts that a dedicated team of volunteers have provided as the one year mark just passed.
#Finding McKenzie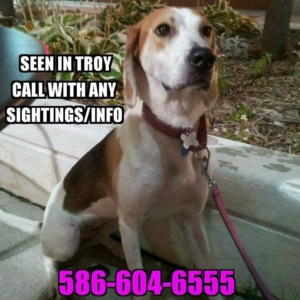 Fast Facts:
Name: MCKENZIE

Gender: FEMALE

Breed(s): TREEING WALKER COONHOUND

Coloring: BROWN/WHITE

Physical Features:
Age: 5 YEARS
Weight: 50 POUNDS
Collar/Microchip/Other: PURPLE COLLAR WITH IDENTIFICATION / MICROCHIP

Contact: 5866046555

Tends to be stranger shy. Calm actions and calm voices are recommended.
In fact, this group has embraced McKenzie's mom so completely, that they recently surprised her with this sign to let her know that while it's been a year, they've still got her back!
---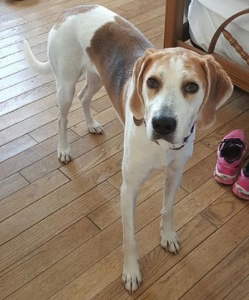 McKenzie was about 1 when she was adopted from a local shelter, and was four when she went missing. She did have on her collar and is microchipped which is very helpful.
On June 22, 2016, a friend of McKenzie's mom was caring for her at her home in Ferndale, MI. She was outside in a fenced yard when someone in the neighborhood lit off some fireworks.
McKenzie got spooked and jumped the fence (she can jump a 6 foot fence) and headed north from there.
The search began right away and she was spotted in the next city, Royal Oak, for a day then onto Clawson and Troy the 2nd or 3rd day. She has been in Troy ever since with sightings continuing until just a week or so ago.
McKenzie's mom shares:
"She is a very important part of my family, and I have been working nonstop to find her and bring her home safe."
The good news in this sad story, is that there continue to be sightings, and the outpouring of support to assist McKenzie's mom in the search has been tremendous.
That includes the huge community and volunteers of the FB page For the Love of Louie *Michigan Lost Pet Lookers*.
Be sure to sign up to join the Finding McKenzie page!
McKenzie's search has included a tracking dog, and good media exposure during the past year (which is so welcome since many lost pets are not fortunate to get this type of coverage), including this one in The Oakland Press, along with tv coverage about their large effort to find her!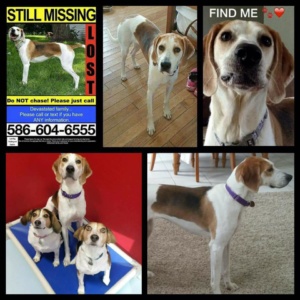 Those who have been involved with this long term search know what McKenzie's mom has gone though by following her fundraiser page from early on:
"There already has been a ton of help, but the search area is expanding and it is becoming difficult to decide where to dedicate the resources. The money from this campaign will be used to help absorb the cost of the live trap, will in turn be loaned out or donated to local rescues, pay for the printing and posting of flyers and signs (we've already printed and posted thousands) and finally the most important right now is the professional dog tracker that has been hired to help find McKenzie.
The search for McKenzie is ongoing, and includes about 20 trail cameras set up around Troy with feeding stations. The feeding stations serve to provide sustenance for McKenzie and to hopefully get her to rely on the food they leave out for her so that eventually she can be lured into a trap.
"All of these efforts require a volunteer team to serve in a variety of roles. Flyers are costly and routinely are updated or replaced when existing ones are outdated or removed.
Any money not used will be donated to local animal rescue groups that have been helping with the search. There have already been so many incredibly generous people helping with the search, it is hard to ask for more help. But I need to do everything possible to bring my girl home, and to do that, we do need more help. "
"It has been an adventure that has been emotional and I have made some new great friends through this journey. I have to tell you, I am super excited about this professional dog tracker. She is coming from out of state and the process is not cheap but my hope is it will be well worth it. Thank you again for all of your prayers and support. I feel the happy reunion is coming soon."
---
December 2016:
Finding McKenzie's FB page noted:
3 sightings the week of December 11th. McKenzie is still in Troy. Please keep sharing. Thank you for helping bring McKenzie home.
❤️
🐶
🐾Check the FB page for updates.
Happily, a local paper ran this story about her that kept the visibility within the Troy community going.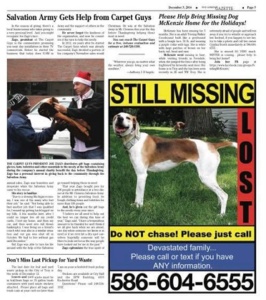 ---
In a posting in June 2017, McKenzie's mom reflects on happier days just one year ago.
---
How YOU can help #BringMacBack
The "Mac Pack" continues to support each other, and McKenzie's mom, inspired by continued confirmed and uncomfirmed sightings. Won't you join and share the community on
McKenzie's FB page
to keep up-to-date on sightings, along with ways you might help? Also updates on any fundraisers to help offset the huge cost related to a search of this magnitude and length will be posted as they are organized.
Here are some ways that people who are in/around Troy, Michigan can assist:
Please keep an eye out! Typically seen near the drains in Troy
Check for a dog laying under your camper or a big pine tree!
Do you have surveillance you can check frequently? Your camera might just provide a clue if she has been around your home or work.
Help by dropping off materials
Help manning the feeding stations, putting up posters, fundraising, and flyering.
View and share the crowdrise page that keeps the funds flowing to offset the ongoing expenses
What NOT to do:
DO NOT CHASE
DO NOT SEARCH
Just CONTACT Cynthia Booth ASAP WITH ANY SIGHTINGS/INFO
Recent unconfirmed potential sightings (reminder NOT to go out searching, but report sightings):
6/11/17 in Troy Union cemetery off Square Lake between Rochester and John R.
6/6/17 off Beach between Long Lake and Square Lake
6/4/17 Off Livernois between 14 mile and Maple
5/27/17 Off Rochester between Big Beaver and Wattles
5/20/17 Off Livernois between Long Lake and Square Lake
4/16/17 Wattles and Crooks
4/8/17 Adams and Square Lake
3/29/17 Off Crooks between Square Lake and South Blvd
---
This video from before McKenzie went missing gives you some perspective on her size/height vs. the beagle.
Let's all continue to be the eyes and ears to help get McKenzie home.
---
Check out our Unite2Reunite initiative
to get started helping others who are missing their beloved pets!
---
Remember to microchip, register,
and keep your contact info updated!
Even if your pet has gone missing and it's been some time,
you might one day get that miracle call!

To visit the home page for our
Monday Microchip Miracles blog
click here to read other happy reunion tales!
#LoveTagChip YOUR pet.