This first post in our new blog "What If … Return to Owner" showcases an exciting collaborative effort that we hope will be repeated throughout the country. The focus on approaches to successfully return more lost pets to their rightful owners is an important one for a number of reasons.
Through increased efforts, more heartbroken pet owners will be reunited with their loving pets while at the same time, fewer pets deemed as "homeless" will drain the strained resources of shelters and rescues to focus on those that truly need a new home!
GREAT EFFORTS COME TOGETHER TO HELP RETURN MORE PETS TO OWNERS.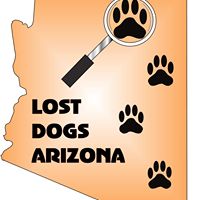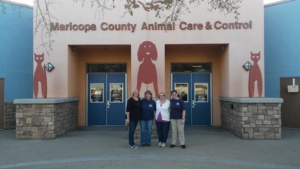 Recently several organizations came together to join resources with a sight set on reducing intake in shelters and increasing Return to Owner rates of pets that find their way into shelters largely as strays.
Cindy Goetz, President of
Lost Dogs Arizona
, is on the front line in her state, responding to owners who have lost their pets. She and her VP Lisa Ann Donaldson and team of volunteers across the State provide valuable free advice and direction directly to distraught owners of missing pets, along with providing their FB platform to post lost and found pet exposure in Arizona and beyond State lines! Their seamless integration (as is true with all
Lost Dogs of America
's State FB pages) with
HeLPingLostPets.com
is invaluable, a it helps to post the pet on a national and free database, allowing pets to be searched from beyond State lines and until they are reunited!
Cindy's involvement on the local scene has led her to continually reach out to see what efforts might be developed to coordinate among various groups, including shelters that are challenged by the never ending influx of strays, many of which are not easily or quickly returned to their owner for a variety of reasons.
Cindy's co-president of LDAZ Lisa Ann Donaldson was aware of a relatively new shelter oriented program "Mission Reunite" that Missing Pet Partnership offered to assist in training shelter staff about barriers related to Return to Owner, along with tips and strategies to assist them. The LDAZ Board was presented with this program information and proposed that it might be a program that the new director of Maricopa County Animal Care and Control (MCACC) might be interested in, especially if LDAZ could assist in finding funding to cover the expenses
It just so happened that Maddie's Fund had a new grant category called the Innovation Grant! After talking to Maricopa Director Mary Martin, who affirmed she would welcome the Mission Reunite seminar training for her staff, Lisa Ann of LDAZ submitted a proposal to
Maddie's Fund
and were thrilled when they were notified they had been awarded $5,000!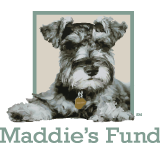 Generation Wags applauds Maddie's Fund for funding this grant as it brings a new proactive dimension opportunity to this shelter (and hopefully more will follow!)
The Mission Reunite program is a wonderful program offered by Missing Pet Partnership thanks to MPP's Founder Kat Albrecht and President Brigid Wasson. The program offers an animal services consulting package that includes interviews with key staff, analysis of statistics and current practices, two days of on-site training, Missing Animal Response online certificate program for selected staff and volunteers, and a follow-up report with recommendations for success.
Imagine the difference if more shelters that have had to focus so much in the way of resources to care for and work to rehome stray pets entering their facilities could reduce those numbers through reuniting more lost pets! This is at the heart of what this new blog "What If … " is all about! Finding ways that shelters can focus their resources and rehoming efforts to those pets that truly don't have an owner, while reuniting lost pets with families that often times are trying to locate their lost pets.
Setting the date for Mission Reunite at Maricopa County Animal Shelter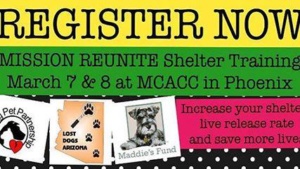 Plans were made to hold the two-day seminar of
Mission Reunite
on March 7 and 8 at MCACC.
The Lost Dogs Arizona/MCACC 2-day intensive Mission Reunite training included one segment using high-tech resources to increase RTO (return to owner) which included an explanation of the HeLP / LDOA partnership.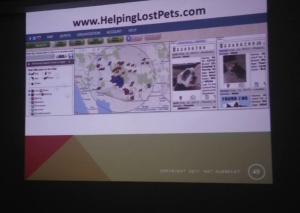 The second day ended with the attendees making lost pet signs for cars.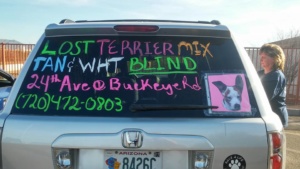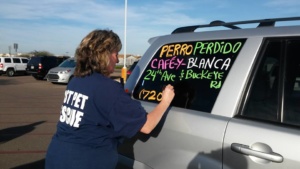 Maricopa County Animal Care and Control's spokesperson Melissa Gable speaks about the challenges related to shelters and strays and how coordinated efforts can help return more pets to their owners!
Thanks to Cronkite News and Nicole Gutierrez for reporting this story and allowing us to share it!
Response has been very enthusiastic as shelter professionals and community partners find new ways to work together and save lives.
Background and more detail on Mission Reunite
Missing Pet Partnership has been around for some time. For years it has provided expertise in searching for lost pets.
Today, they have taken that expertise and developed a training program that they are offering to shelters. Their hope is to address and overcome some of the barriers that currently reduce the number of lost pet reunions that could take place with strays and surrendered pets that come through their doors.
Founded by Kat Albrecht,
Missing Pet Partnership
's (MPP)
Mission Reunite
program has realized its potential with the addition of Brigid Wasson, as Board President, and heading up MPP's Animal Shelter Initiatives. Having worked as a shelter director, Brigid is familiar with some of the obstacles that can be addressed through their training.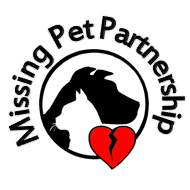 Animal Shelter Training Seminar
Mission Reunite training seminars help animal shelter management, staff, and volunteers work together to implement best practices proven to increase owner reclaims and decrease intake.
Mission Reunite is a two-day intensive and interactive training seminar for animal shelter professionals. Management, staff, and volunteers learn together about the barriers to RTO (owner reclaim of missing pets) and about the behavior of pets, owners, and finders that all hinder RTO. Day One is a large group presentation that offers attendees a lot of information that may be new to them. Day Two is small group brainstorming sessions on finding solutions to the barriers specific to that shelter.
After the seminar they give a follow-up report to the hosting shelter, and for those interested in further training they offer the Missing Animal Response online certificate program.
The measurable goals for the shelter are increased RTO, decreased intake, and decreased euthanasia. Across the nation, over 80% of stray animals brought to shelters are never found and reclaimed by their owners. Keeping pets in their loving homes and, if they go missing, getting them back home quickly frees up resources for those animals truly in need of sheltering and a new home.
This collaborative effort is one we hope to see more off across the country.
It is an example of how the dedicated work of so many volunteers and businesses focusing on lost pets can now work in concert with shelters in a major way.
---
We look forward to bringing you more stories from these groups and many others