When a veteran lost dog rescue volunteer travels away from home, their instinct to jump in and help travels with them.
Such is the story of Gia who is one of the admins for Lost Dogs of Las Vegas FB page. Recently she traveled to California to attend a husky rescue network fundraiser, as she is also involved with Husky rescue.
Preparing to head home after a few days, Gia and her friend stopped at a gas station and saw a dog that was hanging around the gas station without a leash on or person nearby. She went into the station lobby area and inquired if it was anyone's dog, or if anyone had seen it there before. The answer to both questions was no. Even though she was on a time table of sorts, she knew that she couldn't just leave the dog there at the station without trying to round it up and see if she might be able to identify where the owner was, so she worked to get the dog's trust with the enticement of some chicken, and was able to get close enough to drop her trusty slip lead many rescue people have at the ready, around his neck.
The dog didn't have a tag on, so she knew taking the dog to a vet clinic nearby to be scanned for a microchip was her best bet. It was nearing 5:30 so she knew she had to move quickly before the offices closed. Locating one close by, she took the dog in and while it did have a chip it came up as not registered, but the chip company said they called the only number associated with the chip, not knowing if it was the owner.
Had Gia been back in her home turf in Nevada the vets would have keep the dog safely overnight, however this practice would not. Gia was presented with a difficult decision. With no time to post flyers and wait for a call, Gia went on craigslist to see if any posts of a lost pet might match. None there. The dog was older and seemed well cared for with clipped nails, so it was a difficult decision as to what she should do to ensure the dog's safety while trying to find the owner.
Under normal circumstances the effort would be to keep the dog near where it was found, but she had to get on the road back home. With no real solution to ensure the dog's safety, she made the decision to travel back to Nevada with the dog, knowing that the chip company and the vet had her contact info.
Upon her return home with the dog, Gia remembered that another volunteer with lost dog efforts who had once worked on a lost dogs of California page and now assisted with another Nevada lost dogs page. She connected with Kim who gave her the info to post the found dog on Lost Dogs of California, along the link and how to request assistance from Lost Dogs of America's free service microchiphelp.com that provides free help to try to track down dead end microchips.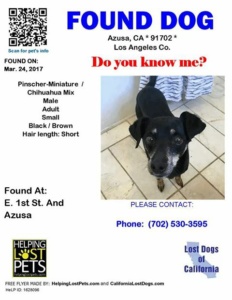 The service is headed up by the founder of Lost Dogs Texas Marilyn Knapp Litt. Upon receiving the request, she assigned the search to Joan Addison who quickly started working to track down some clues to find the owner. Thanks
to her diligence in research and reaching out to potentials, she was in fact able to connect with the owner and learned that the dog's name was BOSS.
The next day Gia received an email from Joan saying that the owner had been located and that the dog, named Boss, was 10 years old and had darted from the house just 3 or 4 blocks away from where Gia found him. The husband had been driving around trying to find him.
---
Gia could not have been more thrilled by learning the news! She quickly reached out to the owner back in California and was able to connect. She learned that Boss had gotten out just a few hours prior to when she found him!
Now miles away from his home, a plan was made to rendezvous two days later for the reunion to be made.
Gia walking Boss from the car to be reunited.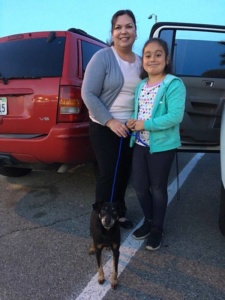 Boss reunited with his family.
---
This happy Monday Microchip Miracles story is so much more than just the story of one little dog named Boss who was reunited. It is also the story of a fantastic collaborative spirit that
Lost Dogs of America
is working to develop by reaching out to other fabulous lost and found volunteers!
By developing resources and networks that can support the day to day hard work of volunteers dedicated to helping those with missing pets, more pets can and ARE being reunited, just like Boss. Instead of ending up in shelters or rescues, these pets are just where they should be … back home where they belong!
---
Remember to microchip, register,
and keep your contact info updated!
Even if your pet has gone missing and it's been some time,
you might one day get that miracle call!

To visit the home page for our
Monday Microchip Miracles blog
click here to read other happy reunion tales!
#LoveTagChip YOUR pet.