Many lost pet stories start so simply and in an instant.
And so was the case with then 7 year old Australian Shepherd Sadie from California.
One day in November 2014, Sadie's mom Julie gave her a bath, and in doing so removed her collar/tag. She couldn't anticipate that when a visitor was by later in the day, a connecting door left open would result in Sadie slipping out without her collar. The "escape" occurred around 9 in the evening, but Julie immediately went out for hours to try to find Sadie to no avail.
And so began Julie's 2 year plus journey desperately searching for Sadie who she first brought into her home as a puppy.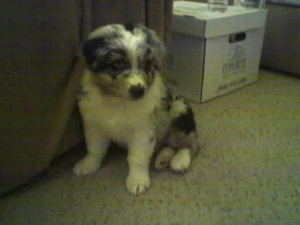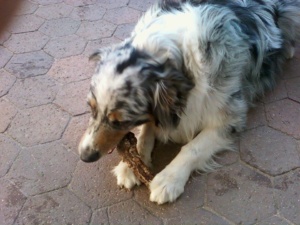 Over the course of the next days, then weeks, then months, Julie went out on her own and with a growing number of "new found friends" who supported her on foot and emotionally. Flyers and larger signs were posted in a 6 mile radius. Sadie's lost dog info was also posted online on sites including Craigslist, and Lost Dog FB pages. She also created a dedicated FB page sharing info about Sadie which garnered leads and support.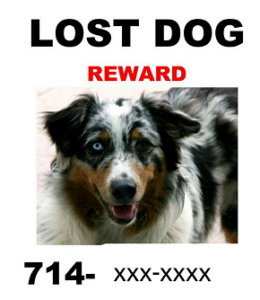 While there was a dedicated core of "Team Sadie" supporters, Julie reflects about so many people she never knew stepped up and opened their hearts providing emotional support, as well as those willing to help her to "beat the streets" as the long search continued. The various lost dog FB pages helped her keep the word out, including two Australian Shepherd specific ones Australian Shepherds Lost and Found USA and Australian Shepherd Rescue.
Many lost dog cases result in false sightings, along with suspicious calls about a found dog, information that will be provided for reward money. Sadly there are those who want to try to scam owners who are desperate to find their beloved pets, so Julie was ever vigilant to be cautious.
Early on, one person had told Julie they thought they may have seen Sadie hopping into a car with someone. This was never confirmed, but Sadie's friendly personality would certainly make it easy for someone seeing a dog wandering (and without a collar) to get the dog into safety and off the street. Of course, what is done after such a potential scenario occurs is a key message to be shared with anyone who finds a stray. But we will return to that later in the story.
While turning to the diverse and traditional methods of searching, Julie did even reach out to an animal communicator who provided her with the "spirit" to keep on searching as they felt that Sadie was "safe and being cared for".
---
WHERE IS SADIE?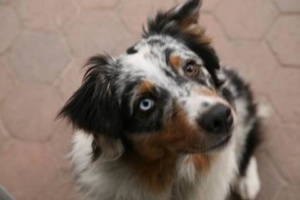 Frantic posts from Julie continued on the lost dog Sadie FB page:
"My dog has been missing since November 11, 2014. I have posted well over 200 fliers, sent out large mailings to vets, groomers and pet stores in my area and have posted on Face book with over 2.600 shares of my post and still my dog is no where to be found. If you have a neighbor, friend or acquaintance or see someone with an AUSTRALIAN SHEPHERD, that you think could be my dog, please take the time to approach them ask if they recently found their dog, or take pictures of them, the dog and their license plate or note their location and text to me, any lead is appreciated. My dog is micro-chipped and can be taken to any Veterinarian or Animal Shelter and have her chip read and I will be located…" If you own a pet, you know the emotional attachment and the constant worry when it gets lost as to whether she is eating, drinking, or has shelter, or how is she being treated. Its overwhelming but I won't give up."
Julie also shared posts that showed Sadie with fur sibling Bella who missed her 4 legged sister.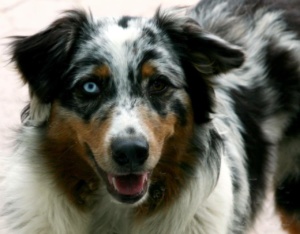 Curiously, there was one particular neighborhood where just the face of Sadie was repeatedly ripped off of flyers on a continual basis. Clearly, this act made Julie suspicious that someone in/around that area may have taken Sadie in, and didn't want the dog to be identified.
Searches, flyers, online posts continued. Seven months out Julie posted this on her Help Find Sadie FB page:
"7 MONTHS AND STILL SEARCHING FOR MY GIRL!
I will not give up, I will not give up, I will not give up … I tell myself that every day as my search goes on for my beautiful Australian Shepherd who went missing on November 11, 2014. I have posted fliers, gone door to door, placed Lost & Found ads, done extensive mailings to vets, animal shelters, rescues and pet stores and groomers. Lots of sightings and leads, but unfortunately nothing has panned out.
PLEASE if you see my dog or know of anyone that may have her, please get a hold of me. It would help tremendously if you could get a license plate number, a resident address, or anything that would give me a location. Sadie is micro-chipped, she is licensed at the O.C. Animal Shelter in Orange. She can be scanned by any veterinarian or at any animal shelter … PLEASE HELP ME BRING HER HOME!"
---
THE NEW NORMAL
As shared early on, Bella very much missed her fur sibling Sadie.
And so, when some puppies were found abandoned in a river bed by a friend, Julie took one into her home as the new fur sibling and named her "Panda", appropriately name for her black and white markings.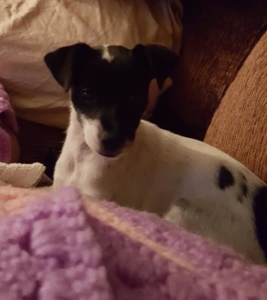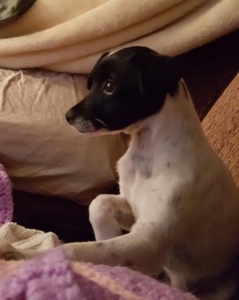 Julie settled in to her new norm with her beloved duo Bella and Panda.
While her active search efforts were reduced as she reached the two year mark, Julie did start the new year with a quiet prayer that Sadie "would run". Two weeks later, she got "the call"
---
THE CALL
On January 31st, Julie received "the call" from OC Animal Care in Orange, CA. It seemed that a woman by the name of Diana saw a stray dog wandering and got her into her car to safety and took her home where she had her own pet. Her goal was to post about the "found dog" on craigslist, and then to take to be scanned. The fact that her own dog was not so happy to have this "guest" in the home prompted her to take the dog into OC Animal Care quickly. Her Craigslist post included that she had found the dog and where she took it. While this posting would be viewed by someone who knew about Sadie's missing status, Julie received a call first from the shelter.
Sadie had been scanned and her microchip was detected and Julie's info found! Those four words that other owners of reunited pets forever cherish were spoken "we have your dog".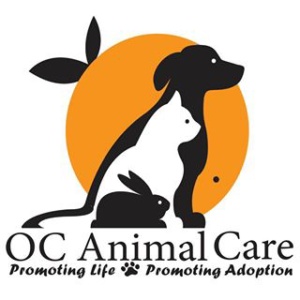 Julie posted the exciting news:
"After two years and three months, Sadie is finally home. I received a call from the OC Animal Shelter that someone had found her roaming the streets on Ball Road and Magnolia in Anaheim and turned her into the shelter yesterday. They scanned her and luckily she was micro-chipped and they were able to locate me.
This is the way to do it guys, if you find a pet, get them to the shelter as that is where the majority of people look for their pets first. Had the person that found Sadie originally done this, she would have been home a lot sooner. She was dirty and matted but had a fair amount of weight so I'm sure someone else had been caring for her. The sad thing is that they never tried to find me. Nonetheless, I am extremely thankful to Diana the girl that found her yesterday and took it upon herself to do the right thing and turned her into the shelter.
I want to thank all of those people that put in their own time to help me print and hang fliers, make phone calls, do mailers and get out on foot to find her. It truly was a blessing to have the support beside me these last two years as losing a pet can be an emotional roller coaster. Sadie is adjusting and being reintroduced to her former companions … not an easy task, but we will work through it one day at a time. I feel so lucky and blessed to have her home."
---
Back Home: Familiar Settings/Duo Turned Trio
Sadie has settled back in well, and other than severe matting, she appears to have been well cared for in terms of her weight and overall demeanor. She is still a very "happy" girl! In fact, her welcoming personality may have made her that much easier to possibly transitioned into a home while missing.
Before Sadie went missing, she was the alpha dog when it came to her fur sibling Bella. Since Bella became the alpha while Sadie went missing to the newly adopted "Panda", that hierarchy has changed a bit now that the duo has turned trio.
While Sadie is only home less than two weeks, she has seemingly bonded more with Panda, while Bella is "sitting back" to some extent, figuring out this new dynamic!
Julie is noticing some familiar patterns with Sadie. For example, Sadie still likes to walk in circles outside the patio door when she wants to come in, and likes to steal the other dogs biscuits and quickly buries them, before going then back to eat her own. Silly Sadie!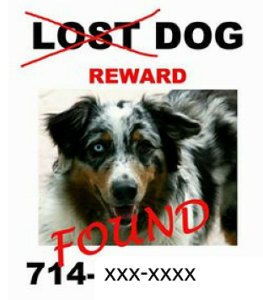 ---
In the end, Julie's sweet Sadie was finally reunited through her registered microchip (with current contact info). While Sadie's collar and tag would normally have been on, this circumstance found her without one. Yet if her collar/tag would have helped reunite her would have depended on whether the person finding her would decide to follow through or perhaps keep this beautiful dog as their own.
The fact that Diana, who found Sadie as a stray THIS TIME, did what anyone finding a stray pet should do:
Get them to safety
Report them to the area shelter (even if the person finding is willing to foster while the owner is being sought)
Take them to be scanned for a microchip.
Post/report the pet as found on various sites.
While the original person who might have found Sadie COULD have felt they were providing for a lost pet without an owner, no assumptions should be made. A pet owner may very well be heartbroken and searching for their canine or feline family member.
We are thrilled that Sadie is safely back where she belongs, now a 9 year old with many years of happiness ahead with owner Julie, and fur siblings Bella and Panda.
---
Remember to microchip, register, and keep your contact info updated!
Even if your pet has gone missing and it's been some time, you might one day get that miracle call!

To visit the home page for our
Monday Microchip Miracles blog
click here to read other happy reunion tales!
#LoveTagChip YOUR pet.