For dogs, their hearing is as crucial as their sense of smell. While their big, floppy ears might make us all gooey inside, it is important to remember that dog ears are also very sensitive.
When a dog has ear issues that require medical care, one major problem has been how to allow the ear to heal without re-injury.
The propensity of ear problems
Given the density of blood vessels present in them, they are more prone to injury and infections. These can range from allergies, mites, and skin diseases to tumors and serious injury to the outer ear flap or inner ear. Some of these problems can persist long term even with proper medical care. That is because dogs continually move and scratch their ears. This can cause re-injury, bandages come loose, and stitches come undone in the affected areas.
Currently, the satellite disc-shaped, hard or flexible, plastic Victorian collar has been the most widely used appendage for pet owners to keep their dogs from licking or scratching their injured ears. But it is so not a dog's best friend.
Have you noticed how fast your fully-grown adult Golden Retriever can wiggle out of it? In fact, can you imagine wearing something similar 24 hours a day for weeks on end? You're probably thinking – "True. But what's the alternative?" The "No Flap Ear Wrap"!
As is so often the case with new products, the adage "necessity is the mother of invention" inspired Julie Haught to develop the "No Flap Ear Wrap". Hers was a great example of Creating Change for Good so dog owners could make it easier for their pets recovering from ear problems.
A "friendlier" option for your pup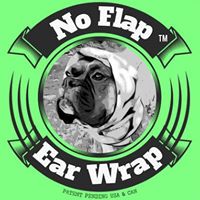 Founded by Julie Haught, NFEW is a family owned and operated business that operates out of Boise, Idaho.
"I created the No Flap Ear Wrap as a more gentle, humane way to help in the healing process of pets with ear problems," says Haught. "Our products have successfully helped with the healing of Aural Hematomas, (pre and post surgery protection) ear Infections, ear allergies, nasty nicks and tears in the pinna or ear flap, prevention of cheat grass, cauliflower ear etc."
Available in a variety of colors (orange, brown, grey, and camouflage) and range of materials (denim, pinpoint mesh, and jersey knit). In addition to being sought out directly by dog owners to purchase online, NFEW's Haught notes that a growing number of veterinarians are seeking out the product to serve their clients.
On the NFEW website, dog owners are provided with detailed instructions on how to measure your dog's head and neck sizes correctly so you can get them the wrap that fits them best and is most comfortable. Velcro straps help adjust the wrap while the soft and pliable material keeps your dog's ears in place while they are healing. No need for bandages that pull out clumps of hair and fur when taken off; no more restrictive collars. Whether your dog is big or small, whatever her breed, NFEW allows her to play, eat, and sleep comfortably all day long. You can even take off the wrap from time to time to scratch her neck and head.
But how did the idea of the ear wrap come about?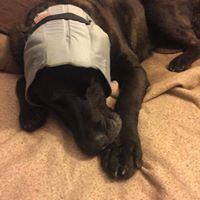 Archer and the Invention of the Haught's Ear Wrap:
Archer, the Haught's 2 year old rescue Boxer came to them with an ear tip injury. It constantly hurt him and in his efforts to shake it off, the Haught home would end up with blood splattered all over the walls and carpets. They tried everything from home remedies – cornstarch to bandaids – to cauterizing and surgical processes at the vet's to help Archer. But the former did not help and Archer would tear off his bandages and easily wiggle out of the Victorian collar meant to keep his ears in place to heal post-surgery. Unable to see Archer in such misery, Julie decided to try out a new kind of ear wrap.
" I got out my Hook and Loop Velcro tape, some leftover fleece fabric and a plastic cutting mat [and] I made Archer a hat out of the fleece that was secured with the hook and loop tape in several places and had a stiff yet pliable plastic strip down the back to stop it from slipping back. The first one worked out well enough that I decided to play with it and I made a second one tweaking the design just a little. On one of our several ear checkups at the Vet, the vet techs and doctors were amazed that he hadn't come back for another re-wrap visit or loosened his taped ears. They all wanted to look at the hat.
They checked his ear and found it to be doing fine. Instead of wrapping Archer's head again, they told me to just put his hat on and go home. Archer wasn't in love with the hat but he got used to it. The hat didn't limit him from using the dog door, didn't make him nervous like the cone did, and we had easy access to his head. We would take it off if he was with us on the sofa and help him scratch his head and around his taped ears. He loved that." [Julie Haught]. Since that day there has been no looking back for the Haughts or Archer, who is the voice of all NFEW blog posts.
---
NFEW in Action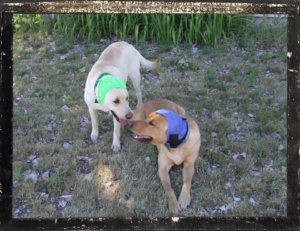 ---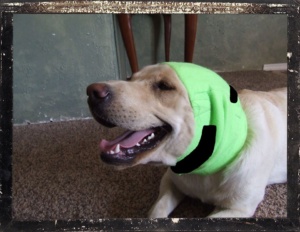 NFEW comes highly recommended by veterinarians as you can see on their testimonials page. It also received a positive video review from DogPhrendly. Dog owners and their pets have also spoken loud and clear on why they love the new ear wrap –
"I wanted to thank you for the 'no flap ear wrap' you made us. It is helping tremendously in the recovery of our dog's ear surgery. The mesh one you made for us to allow more air flow which has been key for her continued recovery. Both our vet and the surgeon we have worked with to save Kimber's ear were impressed with your product and we passed along your brochure to them. Thank you!!" (Don & Lynn Sandretzky Oregon City, Oregon)
"I just want to share in my excitement about the No Flap Ear Wrap!!! I COULD NOT be more satisfied with this product. My very active boxer, Sasha, suffered an ear injury and was simply miserable with my vets alternative… Tape, the dreaded e-collar, sedatives, and more tape. She kept getting the tape off and started with an inner ear infection with needing the cone and all. The No Flap Ear Wrap is truly durable, breathable, and best of all can be removed to clean the ears easily. I'm a vet tech and our office will most definitely be using these for our future hematomas, pinna traumas, and more. The No Flap Ear Wrap stayed on my Sasha with no trouble at all. She was able to play, eat and sleep comfortably again. She is all healed up now and doing great" (Crystal Sieradzki, Indiana)
---
So, if your pooch needs some extra help to keep his ears in place while they're healing, look no further than the NFEW. Help them heal better and happier.
---