Generation Wags … Your Catalyst For Change.
Pet parenting: reducing rescues.  
Helping you to understand the connection is central to our mission.

Whether you currently own a pet or simply have a passion for them Generation Wags welcomes you!
Explore our site and you'll find helpful pet parent tips and events, as well as thought-provoking info and resources to better understand the issues contributing to pet homelessness and how you can help!
Any pet lover will tell you it's hard to imagine life without one. Yet thousands of pets are homeless for a variety of reasons.  The good news is that most of them are highly preventable.  Our Issues Needing Action section provides an overview of many of the issues to help you understand them.  Our Your Role provides you with ways to help prevent more homeless pets … including yours!
Think that YOUR pet could never be at risk of falling into the shelter or rescue community?  Think again. Read on.  Learn steps to take to protect your pet while saving others.
How safe is YOUR pet?
By learning how to be a great pet parent you can make the difference between your pet flourishing or being put at risk.
Check out our  Get PetUcated section to learn about how selecting the right pet for your household, caring for and training them can be preventive measures for the safety of your pet.
---
OUR CHALLENGE TO YOU …
Step Up and Step In to Be a Part of the Solution.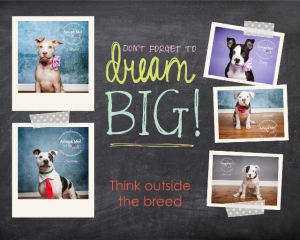 Generation Wags wants to help you understand and gain perspective on the diverse issues contributing to the epidemic of homeless pets.
These issues are in communities everywhere, and not just "pet issues".  The issues range from owner surrenders to the need for spay/neuter, the end of puppy mills and breed discrimination and abuse.  The cost of these issues are financial and societal. Every day, pets enter the world unwanted or live their lives in a world of neglect and abuse. They are innocent victims of our society.
These issues need to tackled on the human level.  We have control over their destiny.  In addition, by tackling certain issues such as identifying and addressing abusers whose violence may  escalate to violence against humans will improve our society overall.
---

OUR SIGNATURE ISSUE – PET SAFETY  …
A topic that every pet owner can take ownership of to ensure their pet does not end up as a shelter or rescue animal.
Check out our LOVE TAG CHIP page to learn more and take our challenge.
Learn more about other measures every pet owner should take to keep their pet safe!
Our LOVE TAG CHIP Challenge is out to ensure every pet owner has their pet microchipped (be sure it gets registered and updated when you move), and has a visible tag.  BOTH are vital.
HeLPing Lost  Pets
We've partnered to help grow HeLPing Lost Pets, a free and innovative map based site for lost and found pets (view some of their tweets on our sidebar!)  We hope you will join it, share it, and encourage those in need to use it.
---
EXPLORE GENERATION WAGS!
Here's a quick look at what we've got in store for you to help you keep your pet safe and happy.  Gain knowledge to enhance your bond and learn how to improve the  lives and futures for our companion animals and reduce the flow of homeless pets.
This slideshow requires JavaScript.
---
Do you have a tale to tell about your beloved pet?
Send it to us along with some pics to generationwags@gmail.com.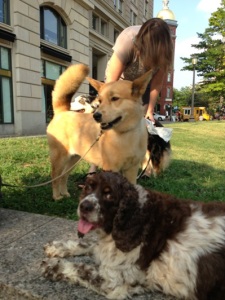 Part I: Sabrina's collaboration with Art and Music in downtown DC. (Training exercise – calming exercise)
This summer, one of Sabrina's morning walks followed a path of art and music. My friend, who is an artist, decided to do an impromptu painting next to a musician, whom we met playing a violin at the metro stop this summer. We found out he was a music student at the Berklee College of Music, Boston. What a treat!  It was so much fun to see Sabrina's excitement and calmness at the same time as she was so moved by the art and music. She loves music and always responds with an upbeat step to her normal stride when she hears music. In this case a live performance from a very talented musician.
Read More of Sabrina's Summer Tale of Music and Art.
---
Generation Wags is a program of the non profit