Generation Wags … Your Catalyst For Change
Whether you currently own a pet or simply have a passion for them Generation Wags welcomes you!
If you could help reduce the staggering numbers of pets in our shelters and rescue system would you? What if you could PREVENT many from happening in the first place?
Consider us your "soup to nuts" resource to understand the connection between pet parenting and preventing homeless pets and a place to explore issues and share actions YOU can take to create pawsitive change.
---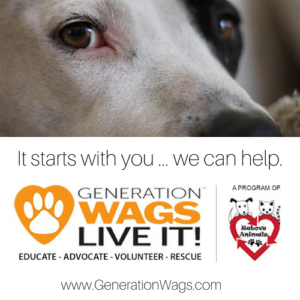 Could YOUR pet be at risk of entering the rescue system?
How can you assist your community to REDUCE the throngs of homeless pets entering your local shelters or rescues? It can be done, and helping you to understand HOW is central to our mission.
Learn how YOU can be part of the equation, for your OWN pet or by advocating for others.
Positive Pet Parenting = Reducing Rescues
We've got lots for you to explore. Visit often and share with others. After all, "You Can't Fix What You Don't Know"
Join our journey to creating the next generation for rescues … Generation Wags!
---
Generation Wags BLOG
Now all our blogs are altogether … check out Generation Wags Blog!
Our sidebar includes recent blog posts, and categories we've written about to educate and motivate!
Don't miss Rascal's Corner's posts by "Dr. G", one of our blog categories!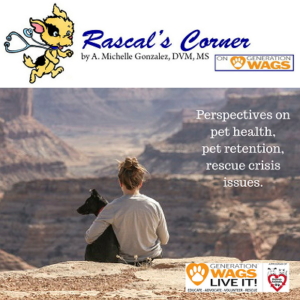 Her posts provide helpful medical perspectives, along with a range of pet owner and even rescue related content.
Dr. G's Ohio based mobile clinics, and brick and mortar animal hospital, augment her extremely active role in the community to help provide and address low cost pet ownership solutions.
---
Whether you're looking for the basics of finding a pet, or how to enhance your relationship we have resources for you. Plus, we can provide you with insight as to how what you know about pet can help do all you can to make sure they flourish not fail.